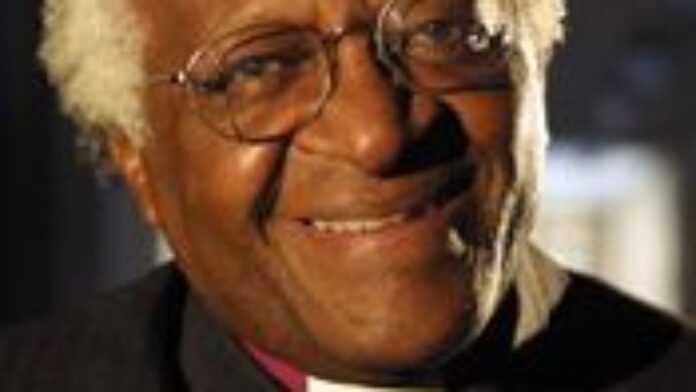 South African Nobel Laureate Desmond Tutu has been named into the Board of Trustees of the American University of Nigeria (AUN), a statement from the university's founder said.
Tutu was among six distinguished scholars and international statesmen who were appointed to the board of the University, based in the northern city of Yola.
Others include Prof. Pat Utomi, Ambassador John Campbell, Sir Marrack Goulding, Mr. Greg Wyler and Dr. Enyantu Ifenne.
Utomi is a Professor of Entrepreneurship and Director of the Centre for Applied Economics at the Lagos Business School; Campbell is a former US Ambassador to Nigeria while Wyler is an American technology entrepreneur and CEO of Terracom in Rwanda.
Sir Marrack was former Warden of St. Anthony's College, Oxford University in the UK , while Nigeria's Ifenne is a world-famous public health consultant.
The appointment were announced in the capital city of Abuja Tuesday by the University's founder, former Nigerian Vice President Atiku Abubakar, after the sixth meeting of the Board held in the city.
Speaking on Tutu's appointment, Board Chairman Ahmed Joda, said: "The entry of one of Africa's foremost clergymen to the AUN Board is a major achievement for education in Africa. Tutu's wise counsel and devotion to the future of our continent is invaluable."
Tutu was quoted as saying in his letter of acceptance: "I am happy to accept the offer from the founders of AUN to serve the University. I am mindful of the honor bestowed on me in inviting me to join your Board of Trustees and participate in the ongoing development of your institution."
The Board has also confirmed Dr. Michael Smith, Dean of the Faculty of Arts & Sciences, as President of the University.
His appointment takes effect from 1 November 2007.
The six new Trustees join an array of distinguished local and international personages already on the Board.
They include Prof. Lou Goodman, Dean of the School of International Service; Prof. Robert Pastor, Vice President for International Affairs at the American University in Washington DC; Dr. Robert McNamara, former World Bank President and US Defence Secretary; Dr. (Mrs.) Jamilah Atiku-Abubakar; Adamu Abubakar; Jackie Chanrai, Executive Chairman, the Chanrai Tulsi Foundation, UK; shipping magnate Peter Okocha and retired CEO of Platinum-Habib Bank, Akin Kekere-Ekun.
The American University of Nigeria Yola (formerly ABTI-American University) was created in partnership with the American University in Washington DC, United States, in response to the demand for high-quality, American-style higher education in West Africa .
United States
Read latest news and features from United States : business, politics, culture, life & style, entertainment and sports