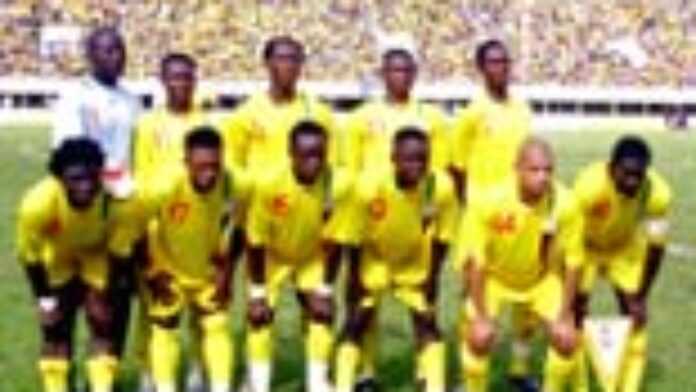 Benin has just completed the recruitment of international footballers wishing to play to uphold the country's pride during the African Cup of Nations, which takes place in Ghana. The National Federation of Round Balls will select 11 out of the lot to make up the needed eleven, hoping for a good show from the Ecureiuls (Squirrels) during their match against their opponents in the rather tough group B.
Fishing for footballers proved fruitful. On the 25th of October, The Beninois football federation (Febefoot) launched an internet recruitment of International Beninois footballers wishing to play for their country during the next African Cup Of Nations (CAN). Febefoot received a number of thirty candidates with an average age of 21 years ready to represent their country during the 26th edition of the games, which takes place in Ghana from the 20th of January to the 10th of February.
21 players from France
Those who responded to the call play mainly for European clubs, from the first to the fourth division. More then two thrids (21) of the candidates are members of French clubs, among them are attackers Razack Boukary (RC Lens) and Serge Gakpé (AS Monaco) and defenders Irelé Apo and Serge Acakpo, both from AJ Auxerre. Four other professionals play in Germany, as against on from Slovakia, one from Luxemburg and another from Italy. Roland Kpégan Tori and Nouhoum Kobénan are the only attackers playing in African clubs, Nigeria (Magate FC) and Mali (As Bamako), respectively.
These footballers are expected to take part in a training session with the Ecureuils (the name given to the national team) in France from the 5th to the 12th of December. The preselected players will afterwards prove their worth on the 16th of December, in a test match organised in the capital Coutonou, Benin. The ideal elements making up the team will gather in Benin between the 23rd and 26th of December before flying to Brasil for training sessions as well as test matches. This is all before a friendly match against Senegal before departing for Sekondi in the south of Ghana.

Doing better than in 2004
If Benin undertook such a recruitment, one which was looked down upon, it is in line with its hopes to do better than its first experience in the 2004 games in Tunisia. The Ecureuils who found themselves in a group with Morrocco, Nigeria and South Africa scored a single goal during the tournament and were eliminated in the first round.
The 2008 tournament will not be an easy task for the new recruits. For their second CAN, the Ecureuils find themselves in group B, the toughest group. They'll be playing the Nigerian and Malian eagles and the Ivorian Elephants…
CAN 2008
Teams representing 47 countries are split into 12 groups of four. The best team from each group automatically qualifies to take part in the 26th edition of the African Cup of Nations football competition which takes place in Ghana.