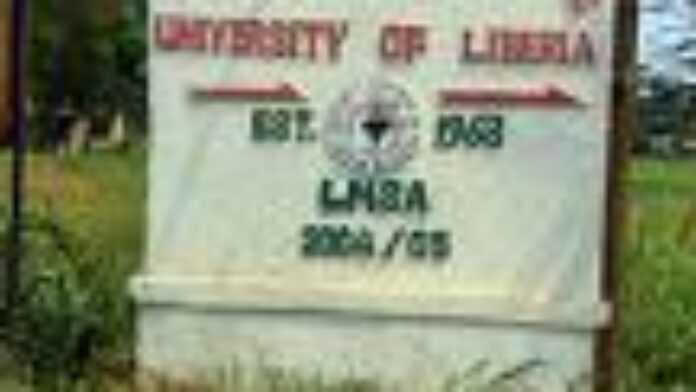 Before Liberia was torn apart by civil war, the AM Dogliotti medical school was funded by the government and turned out around 40 graduates a year. Now there are 195 students on the register, but last year only four students graduated as the average course length has jumped from five years to nine. And the school, the only one of its kind in Liberia, is running out of money.
"Everything is a problem here… staffing, infrastructure, logistics," Dr Tabeh Freeman, Acting Dean and Associate Professor of the medical school told IRIN on 10 March. "The medical school is faced with a severe staff shortage because so many of Liberia's doctors have left the country."
The school has no running water, only a handful of useable classrooms, and struggles to afford fuel to run its generator. Internet access is out of the question. In the library, students gather round 1970s textbooks and the anatomy lab is empty. Students haven't had a cadaver to practice on since 2006.
Freeman, himself a graduate of the school, works from a makeshift office outside on the porch. "It takes a whole year to run a semester due to the lack of resources. We don't have current textbooks and we need Internet. Our freshman class is not yet in because we don't have anywhere to put them," he said.
Huge demands
There are 130 doctors currently practising in Liberia, 51 of who are Liberian nationals, according to the Ministry of Health. Most of AM Dogliotti's alumni fled during the war and are now practising medicine in the United States and Great Britain. Those doctors who are still here are badly needed by the Liberian health system.
"We have over three million people in this country and many of us, including myself, cannot afford to go abroad for healthcare. It is our responsibility as a country to have a good health system. We can't afford to have a country full of sick people and expect them to be productive," Freeman said.
Although there is at least one qualified doctor working in each of Liberia's 15 counties, there is a desperate need for more surgeons and trained support staff. Less than half of all births are delivered by a trained professional and the patient-nurse ratio is 0.18 per 1000.
"There's a huge demand placed on the time of [Liberian doctors]. They can't afford to come here to teach. The doctors are doing other things, they have other obligations. We have to look for teachers and that means the students have to wait to begin classes." Freeman added.
"Teaching doesn't put food on the table"
Post-graduate medical students pay tuition fees of US$300 per semester. Teachers and professors at the school earn in the region of US$500 a month, leaving little in the way of funding for the school's library, classrooms and teaching equipment.
"The school is struggling to recruit surgeons, yes, but the teaching of basic sciences is also a problem. It's hard to find somebody willing to teach biology and chemistry because the salary we're offering is so small. Teaching doesn't put food on the table," said Dr Diallou, a physiologist who teaches at the school part-time.
The Ministry of Health says it aims to strengthen the medical school and double the number of healthcare workers in the country to 8,000 over a four-year period. But it says it will not be able to do so without the sustained support of donors and NGOs.
When Liberian President Ellen Johnson Sirleaf visited the school she was so touched by its plight she pledged to pay for running water from her own pocket – although the taps are still dry at the school today.
The school has since submitted a proposal to the government for emergency funding. The Liberian Bank for Development and Investment donated $300,000 in 2006 and a private investor has offered to pay for three new classrooms for this year's new students.
"40 years ago the medical school was wonderful." says Dr Freeman. "We had books, we had three meals a day and transport was provided. We even had a daily stipend whenever we went to the counties on assignment. It makes me sad to see the school in this state. People were here for me when I was doing my medical training – I feel I should be here for others." Irin.
Liberia
Read latest news and features from Liberia : business, politics, culture, life & style, entertainment and sports