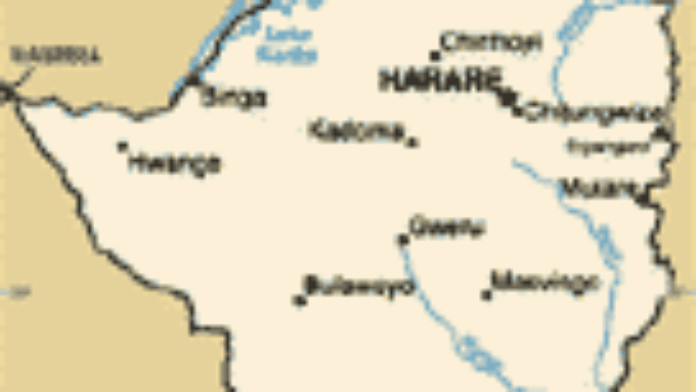 A Chinese ship, whose cargo is believed to include arms for Zimbabwe, had been cleared to dock and offload its cargo at Durban's port, Transnet said today.
Transnet spokesperson John Dludlu said in a statement released today said : "As for vessel An Yue Jiang, we wish to confirm that this vessel with its cargo destined for Zimbabwe is at anchorage outside the Port of Durban.
"As is procedure with all vessels, the vessel and its cargo have been
cleared by the relevant authorities."
"There are arms on the vessel and the ship is on the outer anchorage of the port and it's been docked here since April 14. We have not allowed it in because they have no clearance.
"There was a problem with documents they submitted and we have directed the matter to the chief inspector of explosives in Pretoria… and it may take days for them to get clearance."
Reports from South Africa say Leonard Hadebe, the head of customs in Durban indicate that he confirmed that the shipment was headed for Zimbabwe.
"Right now, the ship is awaiting clearance. If they are carrying any
prohibited or illegal goods, they will be detained by customs," he said.
National police spokesperson Dennis Adriao said he would comment on the matter once he had more details.
DA spokesperson Rafeek Shah said: "Due to the gravity of the situation, the government needs to clarify exactly what the status and nature of the shipment is without delay.
"There are conflicting reports about whether the weapons are still on board the ship concerned or whether they, in fact, are on the road to Zimbabwe. Either way, it is imperative that action is taken to ensure that these weapons are not allowed to destabilise what is already a precarious situation in Zimbabwe."
However, political analyst Protas Madlala said he did not believe that the ship was carrying weapons destined for Zimbabwe.
"In every war, the first casualty is the truth. There is propaganda on both sides in Zimbabwe at the moment, therefore, I do not believe that there are weapons on board that ship.
"I do not think Mugabe would be so foolish as to blatantly import weapons, when he can so easily be caught out. If he wanted to stockpile, he would have done it before the elections," he said.
However, the Chins Embassy in Harare is also mum on the developments.
Early this week a group of Chinese soldiers caused a stir last night in the eastern border city of Mutare as they patrolled the city centre along with Zimbabwean security forces.
About 20 Chinese soldiers all carrying revolvers, were part of a heavy security deployment in the city centre as the oppostion strike "until results are released' was suppressed.
United Kingdom
Read latest news and features from United Kingdom : business, politics, culture, life & style, entertainment and sports