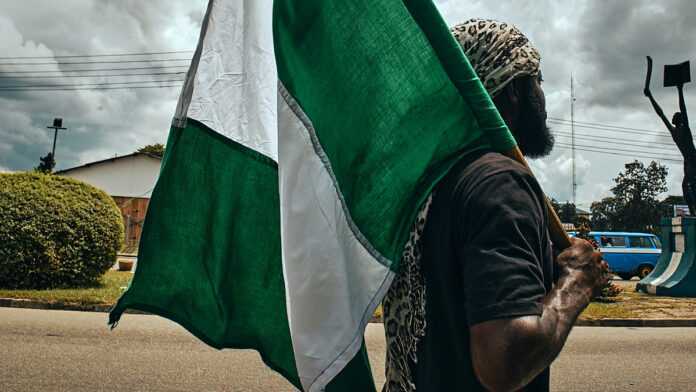 Transactions on the floor of the Nigerian Stock Exchange (NSE) at the end of the past week finished low, as 2.63 billion shares valued at 47.6 billion naira was were traded in 66,373 deals, in contrast with 2.6 billion shares worth 48.3 billion naira exchanged in 80,499 deals in the previous week's transactions.
The banking sub-sector was the most active measured in turnover volume, with 1.35 billion shares valued at 34.02 billion naira exchanged by investors in 30,882 deals.
Volume in the sub-sector was driven by activity in the shares of FirstInland Bank Plc, United Bank for Africa Plc and Afribank Nigeria Plc.
Trading in the three banks accounted for 578.53 million shares, representing 43% of the sub-sector's turnover.
The Insurance sub-sector, boosted by activity in the shares of Universal Insurance Co. Plc, followed on the activity chart with a turnover of 714.2 million shares valued at 2.85 billion naira in 12,755 deals.
The banking sub-sector also led on the activity chart last week ,followed by the Insurance sub-sector.
On price movement, the All-share Index dropped by 2.11% to close on Friday at 59,124.87 points, while . market capitalisation of the 203 first-tier equities closed lower at 11.43 trillion naira.
Thirty-Five stocks appreciated in price, lower than the 60 in the preceding week.
Ecobank Transnational Incorporated led the gainers' table with a gain of 6 naira to close at 244 naira per share while Total Nigeria Plc followed with 4.35 naira to close at 239.95 naira per share.
Other price gainers in the top 10 categories were G.Cappa Plc, Oando Plc, Nigerian Breweries Plc, Dangote Flour Mills, Guinness Nigeria Plc, C&I leasing Plc, Afribank Nigeria Plc and Nigeria Bag Manufacturing Co. Plc.
Eighty-Three stocks depreciated in price, lower than the 89 in the preceding week.
Mobil Oil Nigeria Plc led on the price losers' table, dropping 51.77 naira to close at 248.21 naira per share, while Lafarge WAPCO Plc followed with a loss of 11.68 naira to close at 51.32 naira per share.
Other price losers included Nestle Nigeria Plc, Ashaka Cement Plc, Conoil Plc, Eterna Oil and Gas Plc, Nigerian Aviation Handling Co. Plc, PZ Cussons Nigeria Plc, Union Bank of Nigeria Plc and RT Briscoe (Nig) Plc.
Nigeria
Read latest news and features from Nigeria : business, politics, culture, life & style, entertainment and sports