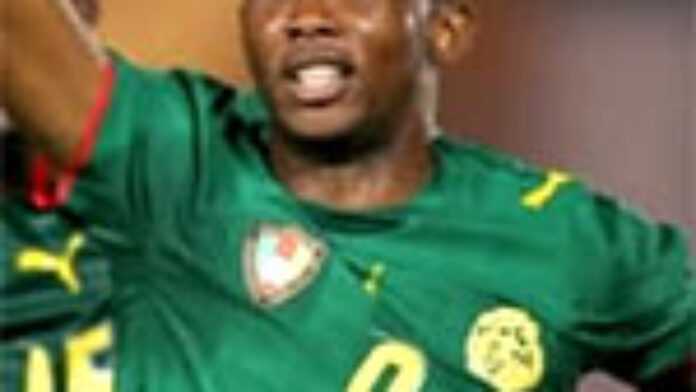 There is no end in sight in the neo aggressive behaviour of Cameroon and FC Barcelona star, Samuel Eto'o. Recently, during a Press conference in Yaoundé, the political and administrative capital of the West African state of Cameroon, Mr Eto'o Fils Samuel butted a Cameroonian journalist for which it is reported that, he later on apologised. His supporters in Cameroon and elsewhere are yet to come to terms with the new aggressive attitude of their idol.
Eto'o has made news again. This time again, it is not about his football feat, but his new new found passion, street fighting. During last weekend's dual 2010 World Cup and Africa Nations Cup qualifiers, that took the Indomitable Lions of Cameroon to the East African Indian Ocean Island of Mauritius, Eto'o was the subject of inveterate booing from many of his disappointed supporters, who came to the George V stadium of Port Louis, to watch him and his compatriots play against Mauritius. It is reported that, the booing only stopped when the haughty footballer was substituted in the 68th minutes by Gustave Bebbe.
According to the East African Indian Ocean Island daily Le Mauricien, Eto'o as well as the entire Indomitable Lions team, have a large support base on the Island. These supporters, however, were disappointed by the aggression of the capricious FC Barcelona star on a local player, Sewraj Dawoochand.
Frictions between the men started when Samuel Eto'o was unwittingly hit by the Mauritian player in the heat of action. Sewraj Dawoochand upon discovering that he may have hurt his idol went up to the Cameroonian to apologise. Samuel Eto'o, though, did not accept the apology and kept on complaining to the Angolan referee Mr Helder Martin de Carvalho. But the referee did not yield to the pressure of the FC Barcelona star. Angered, Eto'o decided to take the law into his own hands, by carrying out an intentional violent tackle on the Mauritian player. However, shielded by his star-status, he got off his savagery with a paltry yellow card.
Cameroon's victory was not disputed by Mauritians, who are currently building their national team. But Mauritians are also not pushovers, for on the turf of the same George V stadium, they held the highly fancied Carthage Eagles of Tunisia to a virgin draw. But Cameroon's victory which was achieved via goals scored respectively by Andre Bikey, Samuel Eto'o and Gustave Bebbe had nonetheless a tinge of disappointment by courtesy of Samuel Eto'o's ill temper.
"African football stars who are more obedient than dogs in their European clubs do transform themselves into capricious and dictatorial lawless monarchs whenever they set foot in Africa and that trend must stop. Why do African stars think that, what they can't do in Europe must be done in Africa?", said a commentator during the match.
Cameroon
Read latest news and features from Cameroon : business, politics, culture, life & style, entertainment and sports