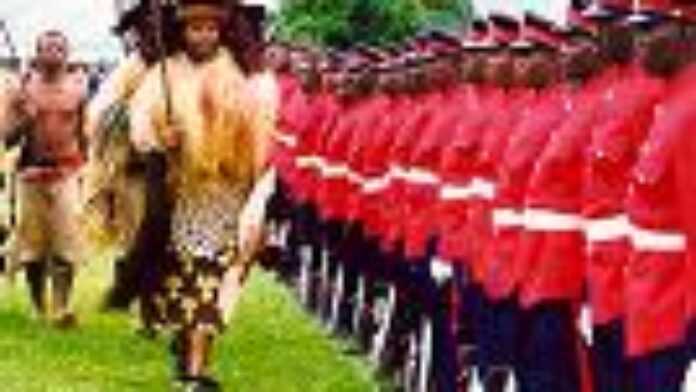 Rampant nepotism claims have rocked the Swaziland Royal family amid reports that royal family members are given unfeted preference in army recruitment.
The disclosure could not have come from anybody trust worthy person than the 94 year old Princess Mnengwase.
She is King Sobhuza II's sister who is King Mswati's father.
She said she has on several occasions been approached by recruiting officer with the offer of "pushing" names of the royal family.
Ordinary Swazi's are made to sweat it out for consideration- by running grueling kilometers.
Weekend reports say scores of people made submissions at the cattle byre at last week's People's Parliament condemning the system used in the recruitment of soldiers.
An angry Princess
Princess Mnengwase revealed that she was approached by the recruiting officers in the army who told her that she had the privilege to have 10 people of her choice recruited into the army without going through the process strictly reserved for commoners; running for the jobs at their respective Tinkhundla centres.
When the offer was made to Princess Mnengwase she took it with both hands. But, it is said that her aides only managed to come up with seven names instead of the 10 that had been requested by the recruiting officers.
What has angered the senior princess is that some of the recruiting officers are spreading allegations that she pushed through a list of 37 people yet she only submitted seven, reports say, although all the seven names that the Princess pushed through never made the grade.
They must face the music
Princess Mnengwase is quoted as having said "They were looking for 10 names, but I only managed seven. Shockingly they never even took one of my 'children' until early this week when they came and said they will be taking only one,"
Princess Mnengwase expressed shock and vowed to take action on this matter and have her name cleared. "It is clear that someone has benefited here at my expense and that person must face the music,"
"They came here and talked about the recruitment and I told them that I have seven. Where the other 30 came from is what I don't know," said the 94-year old princess.
"I believe that some of the 30 cannot even be able to identify me even though they are said to be my 'children,'" she lamented.
Swaziland
Read latest news and features from Swaziland : business, politics, culture, life & style, entertainment and sports