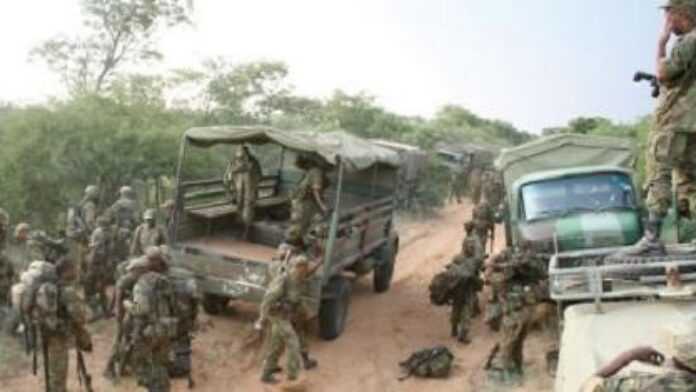 The Botswana government has with effect from Thursday sealed off its Botswana-Zimbabwe border. Zimbabwe immigration sources in Plumtree town confirmed the tough decision.
They said scores of Zimbabweans were caught unawares as the Ramaqhwebane border post in Bostwana was closed to traffic.
It is not yet clear for how long the border will remain closed.
Mlitary involvement
Botswana Defence Forces (BDF) have been allegedly deployed with heavy artillery, along the long border between the two neighbors.
It is understood that the heavy deployment of BDF is to repel any military attack that might erupt due to the political unrest and tension prevailing in Zimbabwe.
It is the first step Botswana has taken alongside breaking diplotic ties with Zimbabwe, as it reviews recognition and legitimacy of the Zimbabwean government.
Botswana might recall its ambassador Pelokgale Seloma from Harare and expel his Zimbabwean counterpart.
Sensitive
Botswana minister of Defence, Justice and Security, Brigadier Dikgakgamatso Seretse today said, "This is a very sensitive matter, therefore, I can neither confirm nor deny any deployment of soldiers along the Zimbabwe-Botswana boarder."
Early this week Botswana become the first African country to publicly declare that it will not recognize Mugabe as president of Zimbabwe and called for the African Union on Tuesday to exclude Zimbabwe from its meetings because a disputed election did not give the government legitimacy.
"In our considered view, it therefore follows that the representatives of the current government in Zimbabwe should be excluded from attending SADC and African Union meetings," Vice President Mompati Merafhe is quoted as saying.
It has emerged that during the closed door session on Tuesday evening, Vice President of Botswana Mompati Merafhe said for all the reasons outlined in the reports of the observer missions of SADC, the AU and the Pan African Parliament, his country "does not confer legitimacy on the government of President Mugabe".
Merafhe proceeded to call for the exclusion of the "representatives of the current Zimbabwean 'government'" from all future SADC and African meetings, saying their participation "would give unqualified legitimacy to a process which cannot be considered legitimate."
South Africa to follow
Meanwhile, South Africa's main labour union has also announced plans to blockade Beitbridge border post linking Zimbabwe with its giant southern neighbour and main supplier in protest against Robert Mugabe's rule.
The Congress of South African Trade Unions (COSATU) said the blockade next Saturday would be the beginning of a sustained action against Mugabe, who was last week elected for another five-year term in a presidential run-off vote in which he was the sole candidate after opposition leader Morgan Tsvangirai pulled out.
"COSATU is mobilising its members, civil society and Zimbabweans living in South Africa in solidarity with our fellow trade unions and the people of Zimbabwe, beginning with a demonstration and border blockade at the Beitbridge border post, on Saturday 5 July 2008," the labour union said in a statement.
Zimbabwe
Read latest news and features from Zimbabwe : business, politics, culture, life & style, entertainment and sports