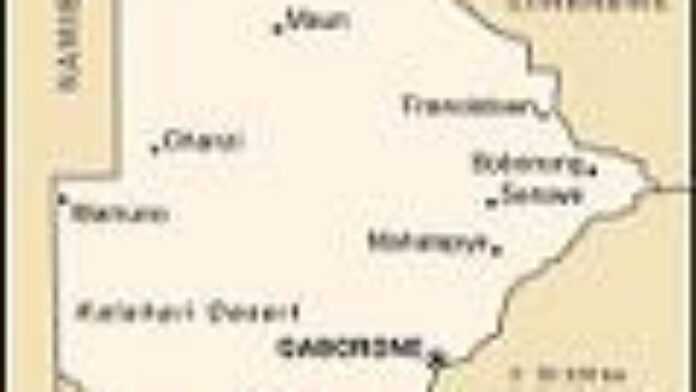 At a time when Africa should be celebrating the hosting of the 2010 Fifa World Cup in South Africa, one country is not in that mood.
Botswana, neighbor to the host South Africa is crying foul.
Due to the expansive construction work going on in South Africa, building material prices have gone up there.
This has greatly affected construction industry in Bostwana as it has to fork out more on importing building materials.
Botswana imports virtually all such materials from South Africa.
Media reports in Botswana say construction of schools, hospitals and houses has become expensive.
It is said that the Ministry of Education and Skills Development (MoESD) had planed to build four senior secondary schools.
But MoESD's Principal Public Relations Officer II, Godfrey Kalanke, is quoted says that the combined estimated cost for the schools is far more than the ministry had budgeted for.
Estimates for the construction of the school in Mogoditshane is the lowest at P547 054 862 80 while that in Shakawe is the highest at P802 049 980 19. Nata's stands at P729 766 268 05 while Mmadinare's is P668 204 310 70.
"The building materials have to be transported over here from South Africa and so, the rising fuel prices have also contributed to the escalation in cost," Kalanke says.
However, despite the rise in costs he said construction will go ahead though the government may have to alter some of the designs.
"Learning and teaching, as well as the construction, will go on despite the escalation in costs. While we appreciate the need for a school environment to be attractive, we are going to have to provide what we can within our limited budget," Kalanke says.
Some of the schools may not have swimming pools and high-tech laboratories.
Another major construction project that has been delayed and scaled down is that of the National Stadium in Gaborone because it would have gone more than 100 percent over budget.
Instead of the full refurbishment earlier planned, the only make-over will include little more than cosmetic changes to the soccer pitch, track and stands.
About P90 million had been earmarked for the refurbishment but the figure shot up to about P230 million. The escalation in cost occurred as government was also planning to build a new stadium in Francistown at a total cost of P175 million.
Botswana
Read latest news and features from Botswana : business, politics, culture, life & style, entertainment and sports