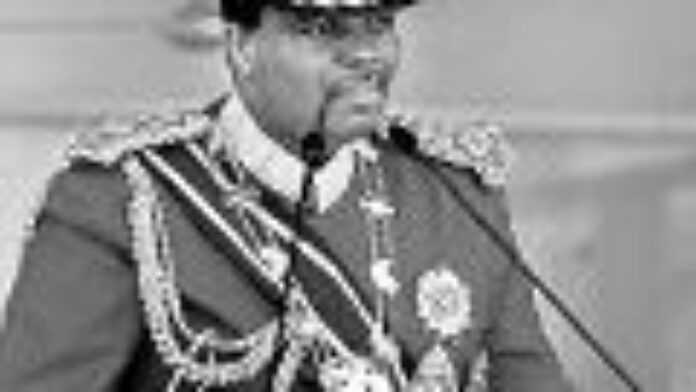 Swaziland has invited controversial Robert Mugabe to a royal day of celebration marking the country's 40 years of independence from Britain and King Mswati III's 40th birthday.
Media in Swaziland reports that Africa's last absolute monarch is "looking forward" to hosting on September 6 the 84-year old veteran leader.
Mugabe is one of 13 Southern African Development Community (SADC) leaders invited to attend the day of royal festivities that would gobble close to US$6,5-million.
"The invitations were sent before the Zimbabwean presidential run-off. We are looking forward to hosting the one who is president of that country if he accepts our invitation," foreign ministry principal secretary Clifford Mamba is quoted a saying.
However, it is the same King Mswati III who recently offended Mugabe when he chaired a meeting of regional leaders which called for the run-off election to be postponed.
Addressing a rally just before the run-off, Mugabe told thousands of his supporters that leaders like King Mswati III cannot teach him anything on multi-party elections.
But the official invitation is generating intense criticism in the Southern African sub region.
Swaziland's main opposition People's United Democratic Movement (PUDEMO) party has condemned the invitation as a sham and an affront to the people of Swaziland.
Reports say the opposition party questioned why the government would invite what it describes as a tyrant to be part of a celebration with
democratically elected heads of state in the region.
But some political analysts, however, say Mugabe's invitation is an attempt by the Swazi King to make peace with the Zimbabwe leader after he offended Mugabe when he chaired a meeting of regional leaders, which called for Zimbabwe's election run-off to be postponed.
Mario Masuku the leader of Swaziland's opposition said :"We are not only frowning on the invitation of Robert Mugabe. The celebrations themselves are unwarranted, it is just a waste of money for the Swazi nation"
He described the estimated cost of the planned celebration as completely unjustified, which he said shows the kings profligacy of spending the people's money without caring for the suffering masses.
"I believe that the money could have been used into improving of the standard of living of the people of Swaziland. Currently, there are people who are suffering from the drought, people who are unemployed the money could have gone into improvement of the health facilities, the money could have gone into the improvement of the education standards of Swaziland. We believe that the king if he wanted a birthday for himself, he could have done so from his own resources, but not from the people's taxes," he said.
Swaziland
Read latest news and features from Swaziland : business, politics, culture, life & style, entertainment and sports