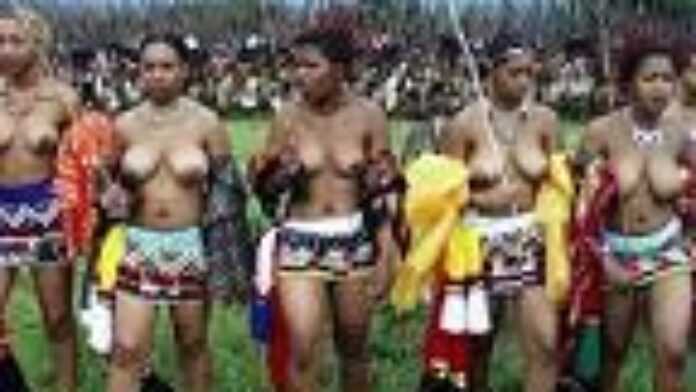 Swaziland, today celebrates the Reed Dance the second most important ceremony where King Mswati III would pick his 14 wife.
At the weekend the King sent out more than 50 000 virgin girls into the fields to cut reeds for an annual ritual.
The reeds collected by the girls are used as a wind breaker in huts and fences.
The bare-breasted virgins lined up for inspection by King Mswati III on Sunday in which is always riven with speculation over whether the king will choose a new bride.
The event is an important fixture in the cultural calendar of this deeply traditional southern African kingdom and is held in honour of the Swazi queen mother.
Months are spent preparing the outfits: strings of colourful beads are worn over bare breasts and short beaded skirts adorn bare buttocks to denote chastity and signify maidenhood.
At the crack of dawn the maidens make their way down to the river to bathe in the cold water to wash away bad luck.
They then proceed to a nearby field where a group of old women tests each maiden's virginity.
The elderly women tasked with guiding the maidens place the girls in groups, checking that each is dressed appropriately.
They coach those deemed "potential queens" on how to behave around the King.
Underwear is one of the first things the women collect from the girls. From here the dance, which involves lifting legs and possibly exposing more than "innocent buttocks", follows.
The ceremony today comes ahead of controversial double celebrations to mark the impoverished kingdom's 40 years of independence from Britain and Mswati's 40th birthday on September 6.
"Since you know that the country is faced with these major activities, I urge you to behave yourselves and make sure that you display respect so that tourists would return to the country," the Queen mother, Ntombi Twala, it today quoted as telling the girls.
The age-old reed dance is aimed at encouraging young women to preserve their purity and abstain from sexual activity before marriage.
But the ceremony has seemingly failed to make an impression on the scourge of HIV/Aids in a country where close to 40% of the adult population of one million are infected with the virus, according to a UN report.
The king and eight of his wives returned last week from a controversial Middle East shopping trip in preparation for the so called 40-40 celebrations.
The trip attracted unprecedented condemnation from women's groups, political parties and civil society groups.
Reports say, there was tight security at a Swaziland Airport to prevent the public from seeing the Kings wives known as Emakhosikati and the luggage they brought home.
Not only were locals prevented from seeing Emakhosikati, but tourists were also denied any chance to see them alight from a chattered jet.
Swaziland
Read latest news and features from Swaziland : business, politics, culture, life & style, entertainment and sports