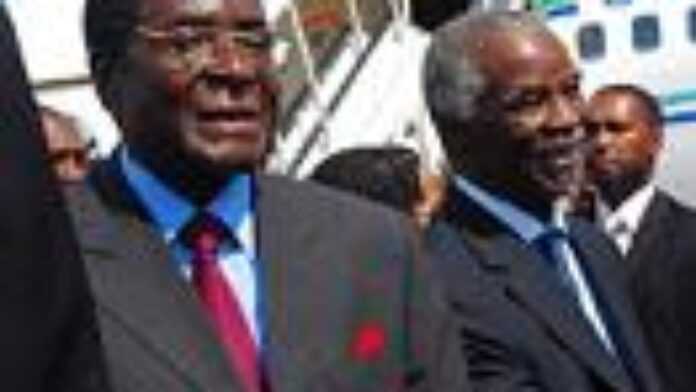 Zimbabwean President Robert Mugabe Thursday said the sudden departure of South African President Thabo Mbeki, who brokered a power-sharing deal, was 'devastating.'
The South African leader stepped down Sunday after his ruling African National Congress party demanded hit quits over suspicion he orchestrated a graft probe against his former deputy, Jacob Zuma.
But although he has been retained as mediator in Zimbabwe's political crisis, Mugabe said Mbeki's resignation was devastating and disturbing.
"It's devastating news that President Thabo Mbeki is no longer the President of South Africa, but that is the action of the South African people," he said.
"Who are we to judge? But it is disturbing," he added, in remarks carried by the official media.
Mugabe, who is in New York attending the United Nations General Assembly, was commenting on the Mbeki's resignation for the first time.
The former South African leader spent months painstakingly negotiating a power sharing deal between Mugabe and the opposition after a disputed presidential poll early this year.
The two sides signed the deal two weeks ago, but are still haggling over ministerial positions.
Under the agreement, both the government and the opposition will form a national unity government to jointly run the country. Panapress.
South africa
Read latest news and features from South africa : business, politics, culture, life & style, entertainment and sports