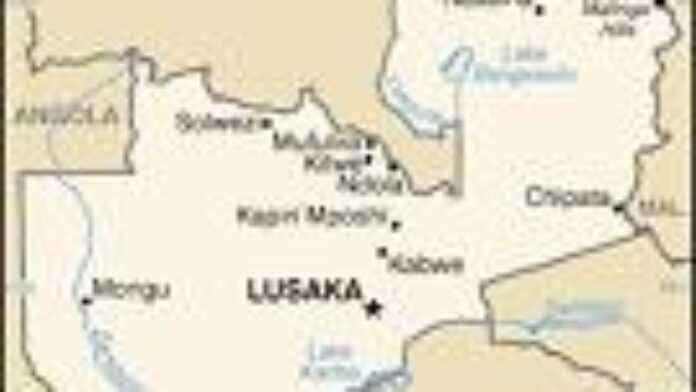 Police in Zambia on Thursday detained five Patriotic Front (PF) officials who impounded a Ministry of Health truck on suspicion that it was carrying ballot papers, reports say today.
The five were detained yesterday for allegedly giving false information to a public officer. The detentions followed a verification exercise conducted at Kasama police station in the presence of all stakeholders, which revealed that the truck was in fact carrying spray pumps and chemicals for treating mosquito nets.
Northern Province police chief, Charles Lungu, who confirmed the development, said police had launched investigations to establish the motive behind the alarm.
Acting on information, the PF officials waylaid the truck at TAZARA barrier around 20:30 hours where they ordered the driver to park the truck so that they could check its contents despite him having told them what he was carrying.
After a bitter exchange of words, the driver decided to drive off to JB Hotel where he was supposed to spend a night, reports say. The uncompromising officials followed the truck at JB Hotel where they started removing the tent and opened two boxes.
However, it was not until the police officer- in-charge appeared on the scene that it was resolved that the truck be driven to Kasama police station to allow for a verification of its contents yesterday.
Health Minister, Brian Chituwo is quoted as saying it was regrettable that the PF cadres could take the law in their own hands. Dr Chituwo said it was important that the PF leadership instilled discipline into the minds of their members so that they could desist from carrying out such acts.
"It is unacceptable that the cadres could take the law into their hands instead of reporting the matter to the police. These are excited cadres and I am not quite sure whose instructions they were following," Dr Chituwo said.
As a result of the impounding of the truck, he said drivers in the ministry were now scared to drive trucks in rural areas for fear of such acts, he said.
Meanwhile, acting president Rupiah Banda has promised Zambians that he will not be a president of vengeance once elected in next week's presidential election.
Banda said he would embrace, even his political opponents, and accord them any assistance when faced with trouble as Zambians. "I will vent my vengeance on tackling the high poverty levels afflicting our people, unemployment among the youth and any other ills affecting our citizens. I am not arrogant as some quarters of society have been saying," he said.
Zambia
Read latest news and features from Zambia : business, politics, culture, life & style, entertainment and sports