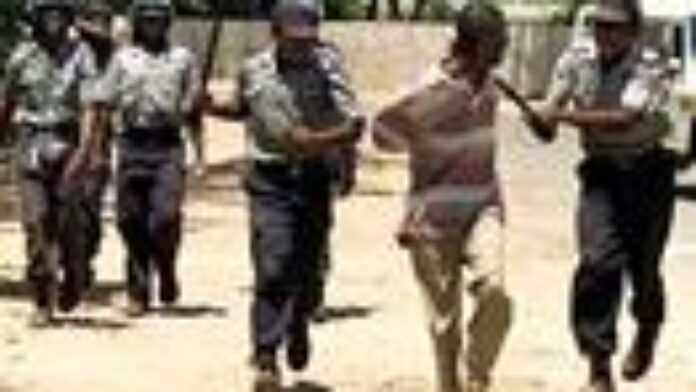 Diamond fields in the Chiadzwa area of Marange District have turned into bloody battle fields pitting armed members of the Zimbabwe National Army and brave diamond diggers.
On Friday four soldiers and two diggers died in one of the now too frequent battles. Police national spokesperson Andrew Phiri confirmed the deaths though he say only "a few people died".
Armed informal diamond miners scraping a living in desperate times continue to resist attempts by the army to remove them in increasingly violent clashes.
The diamond fields have attracted thousands of informal miners in the past two years. Diamond miners are known as "makorokoza" in the local Shona language.
Shoot to kill orders
Edmond Chirape, 26 survived the attack and he now walks with a limp. He says Chiadzwa is now a war zone. " The police and soldiers who patrol the area say they have one clear instruction that is to shoot to kill all diggers here"
Chirape, arrived at the site in May, says he has so far witnessed at least three burials of shot colleagues. One of his friends he came along with is battling for his life at home.
He would rather die at home than under guard by the police in a hospital, because the moment he visit a hospital authorities want to know how you sustained the injuries before treatment.
The black market
More than 80 percent of Zimbabweans are unemployed in an economy marked by the highest inflation rate in the world — now officially at 231 million percent, but unofficially thought to be many times higher.
Informal miners sell their rough diamonds to middlemen who, in turn, smuggle them out of the country for sale at higher prices.
Many of them like Gift Ncube, who trades in foreign currency, are not short of money. When not digging for diamonds at Chiadzwa, he lives in a motel in Mutare.
He and many of his fellow diggers can also afford private medical care. "The doctors can do anything if you have the foreign currency to pay them and, after all, the referral hospitals or clinics here are not well equipped in any case."
Diamonds for prostitutes
Syndicates of informal miners also often have internal confrontations. "The syndicates accuse each other of encroaching onto exclusive territory belonging to a certain group or of 'stealing' clients, Ncube say.
"Fights that emerge out of this have also resulted in death, and often occur after heavy drinking bouts in the city or other places. I know of cases where rivals have buried each other alive in the tunnels."
The diggers spend most of the day in the shafts digging for the diamonds and sneak out during the night. That is when they have confrontations with the soldiers and the armed police on horseback. They are becoming more vicious every day because some of them get killed or are injured., he says.
The site has also attracted prostitutes who charge in diamonds or foreign currency.
Zimbabwe
Read latest news and features from Zimbabwe : business, politics, culture, life & style, entertainment and sports