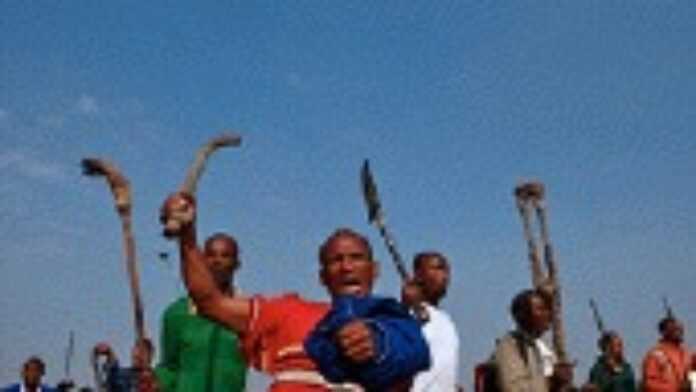 As Aunesi Omari and her children cowered in her room in Philippi, a low-income section of the South African city of Cape Town, in Western Cape Province, she heard the armed men outside shout: "We're going to kill you because you don't want to listen."
Omari's crime was that she had returned to her home after being run out of the community in May, along with thousands of other foreigners. The men outside made their point by firing two shots into the house she had lived in for five years.
The xenophobic attacks in May killed over 60 foreign nationals across the country and displaced some 20,000 in Western Cape. A week after the violence, the government established "safety camps" around the country, offering safe haven to foreigners.
From the outset it was made clear the camps would be temporary, and the displaced would need to choose between reintegration into their local communities, or repatriation to their country of origin.
By late June, provincial officials claimed that some 12,000 of the 22,000 displaced had voluntarily returned to their neighbourhoods. Many foreigners said they had faced dire conditions in the camps – lack of food, poor sanitation and, in wintry Cape Town, insufficient protection from the elements.
Still not safe
An unknown number have continued to be victimised after returning to their communities, typically without an official programme of protection or monitoring by the government or police.
"I know at least 20 people who went to be reintegrated and were raped or killed or attacked," Asad Abdullahi, a Somali leader in Cape Town's Blue Waters Security Site, said. "I've attended their funerals, and still have their documentation for asylum seeking."
Like the other 650 people still in Blue Waters Site C, Abdullahi has refused to leave despite the camp's official closure over a week ago, because he fears for his life.
Omari, a Tutsi who fled ethnic violence in the eastern Democratic Republic of Congo, said she decided to return to her community in July, after a month in the camp, so that her five children could go back to school.
Police an accomplice
The first night back the shots were fired, and she and her husband filed a police report the next day. "I told my husband, 'Let's go the police station, because this bullet is proof, and maybe they'll come to make an investigation'."
They reported the incident. Omari, who speaks Xhosa, one of South Africa's main languages, said the officer called a colleague on the police radio, but she heard him decline to investigate the case.
"The police asked which kind of people it was for, and said, 'Oh, it's makwerikweri [derogatory term for a foreigner], I don't want to come. They want to prove why they don't want to go back to community. If I make an investigation for them, maybe that paper [document opening a case] will be that proof [evidence of the incident]'," Omari alleged.
She and her husband subsequently returned to Blue Waters Camp, where they have stayed despite the likelihood of imminent eviction. Her story was mirrored by many others who said they had attempted to return to their communities but were threatened or assaulted within a day or two, and had fled back to the camps.
Xenophobia or crime?
"When these killings take place, the police say it's crime, not xenophobia. But to us, we see another tactic, which is that the people who created the xenophobic attacks are now trying to scare us away, one by one, so we'll get scared and run away. It's another form of xenophobia, but not like the one in May," Mohammed Osman Jamma, leader of the Somali Community Board, a self-help association, asserted.
Responding by email to allegations that over 10 people had been killed in xenophobic attacks around Cape Town over the last month, the South African Police Service wrote: "We do not have any record of the existence of xenophobia in the Western Cape for that period. Be advised that several cases of crime however were reported."
The question is: where is the line drawn between "common" crime and xenophobia? "I'm not sure anyone has a clear answer to that," said Hildegard Fast, head of the province's disaster management authority. "We have to note that there is a problem with crime generally, and sometimes those victims will be foreigners.
foreigners vulnerable
"Sometimes there may be elements of xenophobia in a criminal incident, and in other cases it may be the motivation for the incident. But rather than having a strict methodology to define that this is or is not xenophobia, we have to recognise that our number one goal, as a society, is to create safer communities for everyone, and creating safer communities for foreigners is part of that goal."
Fast also pointed out that foreigners, who are often unable to open bank accounts because of documentation problems, are targeted because of their vulnerability.
According to the police, "Circumstances will dictate whether it will be classified as a xenophobic attack or as an act of crime. Usually an attack on an individual is regarded as crime, while several attacks against foreign persons by locals will be regarded as xenophobia, if evidence of this nature exists."
I can do what I like
Some foreigners question police willingness to look for evidence. A Congolese man at Blue Waters, who wanted to be identified as Matagera, said a police officer had urinated on the tap where residents bathe.
When confronted, the officer allegedly said that he was in his country and could do whatever he liked. "If the police, who are supposed to protect you, say things like that, and you're still pressing me to go reintegrate, I ask you, who is going to protect me there?"
Norbert Ndagijimana, a Rwandan, said he and his wife had returned to their community. A few days later his wife, Agathe, was on her way home from church when she was told: "They're coming."
That night a small mob pushed Ndagijimana's car away from their house and smashed all its windows. When the police came they told him he was lucky that he still had his car. When he asked them to take fingerprints, they allegedly declined to do so.
Whether these incidents constitute hate crime or not, it is clear that foreigners are vulnerable. "For me, there's no chance to stay here," said Abdallah Aman Afrah. He was shot in the arm and witnessed his brother being killed by armed robbers in their shop on 9 November.
"Now my other brothers and I are preparing to go back to our country. There's a war there, but that war is better than this one, because that is my country. I'll leave as soon as I have money to go home."
Desperate
The Somali Community Board is encouraging people to stay. "The situation in Somalia at the moment is appalling. Some of our community want to return, but it's not a good idea. But I understand their desire, because a lot of Somalis have lost everything here. It's out of frustration that they ask for repatriation."
Others like Aunesi Omari – who, in her five years in South Africa has seen her brother killed, her daughter raped, and her home taken away from her – seem to have fallen into passive desperation.
"Now they're talking about evicting us from the camp. I don't know which place I'm going to go. I'm looking everywhere for where I'm going to be safe. In South Africa I'm not safe, and in my country I'm not safe. Where can I go with five children? I really don't know what I'm going to do."
IRIN
South africa
Read latest news and features from South africa : business, politics, culture, life & style, entertainment and sports