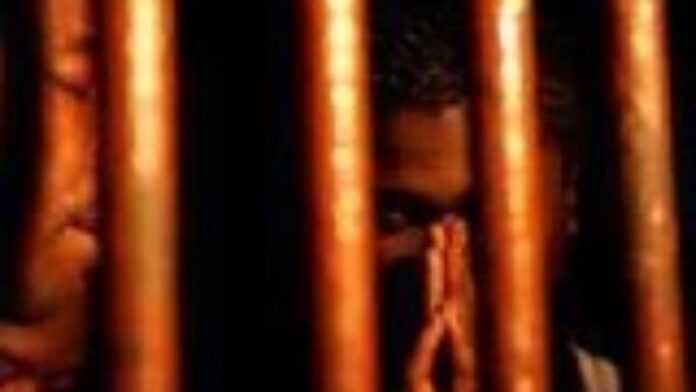 Rescue Alternatives Liberia (RAL) has issued a report on what it calls "deplorable" conditions in Liberia's prisons and detention centres and has called for reforms in how the institutions are managed. The findings were based on visits to prisons and detention centres across Liberia's 15 political sub-divisions.
Detention centres hold people awaiting trial or sentence, while prisons are for those who have been convicted of crimes. "Prison conditions [in Liberia] remain deplorable," RAL's executive director Jarwlee Tweh Geegbe, declared. "Prisoners suffer from overcrowding, the food is inadequate and there is no fresh water. Detainees do not even bathe daily, nor are they allowed to move around."
He added: "Some of the detainees have no bedding unless relatives supply them with it, and lack essential items such as soap. They must sleep on the bare floor…and some do not even have clothes to wear." Naked prisoners do not come as a surprise. According to Geegbe, prisons are mainly run by poorly-paid, poorly-trained staff,
Riccardo Conti, head of the International Committee of the Red Cross (ICRC) in Liberia, confirmed poor health conditions across many of Liberia's correctional facilities. "This can increase detainees' vulnerability to infectious diseases such as cholera." ICRC has helped build latrines and showers and provided clean water to detentions centres across the country.
Long waits
Many inmates are detained for long periods without trial, a prison guard who asked to be identified only as Paul, told confirmed. In most cases detainees are eventually pardoned by the courts because of a lack of evidence, he said.
RAL says 1,399 people are detained in Liberia, 91 percent of them male.
Alfred Tweh, 28, was imprisoned for allegedly raping a four-year-old girl. He has denied the allegation and is awaiting trial. "The situation here is very troubling," Tweh from the Buchanan prison compound in southeastern Liberia confided. "The facilities are very poor. This cell smells bad. Nothing is being done to improve this situation. We are calling on the government to come to our aid."
Why poor conditions
Most of Liberia's correctional and detention facilities were destroyed or damaged during Liberia's 14-year war and successive governments have not made their rehabilitation a priority, according to Geegbe.
The government budget to run individual prisons is unknown and irregular, the RAL report says. "The sector is…begging for subsidies from the government though [the government's] responsibility is to fully support prisons."
Conditions better?
The government has developed a policy to improve prison conditions, with individual action plans for each prison, according to Fatumata Sheriff, assistant minister for rehabilitation at the Justice Ministry, which runs the country's detention centres.
"We have found it difficult to improve facilities to 100 percent standards, but conditions are better than during the war," Sheriff said. "Inmates now eat regularly and most prison facilities have improved." To date the government has worked on facilities in Margibi, Monrovia, Lofa and Bomi counties, she said.
The government plan includes training and incentives for prison staff and the rehabilitation of detention centres with help from the UN Mission in Liberia (UNMIL). Sheriff said the government has also established a new court at the central prison in the capital Monrovia, hiring legal staff to speed up trials.
Conti of the ICRC indicated that prison wardens' salaries have now been raised to be equal to that of police officers – US$80 a month.
Looking forward
But for Geegbe the only way to improve conditions significantly is to allow prisons to be autonomous rather than run by the Justice Ministry.
But one official working to improve Liberia's prison conditions disagrees. "Autonomous functioning will not work in Liberia. You cannot put in place minimum prison standards that way. You need to improve centralised systems to improve conditions."
An example of improved collaboration, according to the ICRC's Conti, is combining the budgets of the health and justice ministries to improve prison hygiene standards, which these ministries have done in some cases.
IRIN
Liberia
Read latest news and features from Liberia : business, politics, culture, life & style, entertainment and sports