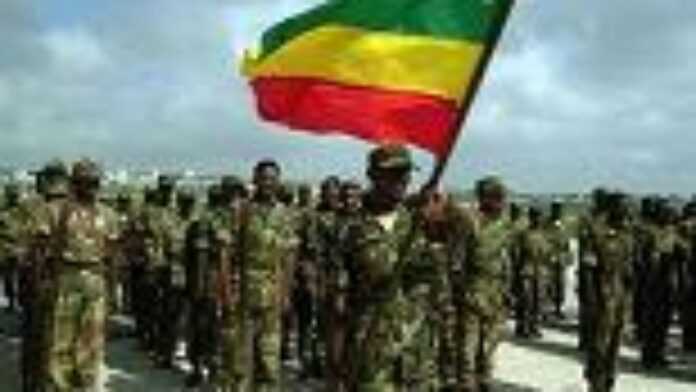 Only a couple of days after completely withdrawing all its troops from Somalia, Ethiopia has put its military on alert to go back to Somalia. At least, that is what the head of the African Union Commission, Jean Ping, has led the press to believe. He confirmed that Ethiopian troops will move back into the volatile country if the occupation of the seat of parliament in Baidoa by Islamic group Al Shabab continues over the next few months.
Al Shabab has vowed to introduce Sharia law in Baidoa.
Feigning surprise to Jean Ping's announcement, Mr. Bireket Simon, Ethiopian Communication Affairs Minister said that he had no information on the Ethiopian government's intention to go back to Somalia after withdrawing its troops only a few days ago.
According to Jean Ping the situation is less dire than expected as the Alliance for the Re-Liberation of Somalia (ARS), has taken over the positions previously occupied by the Ethiopian troops. In a news conference, Tuesday, he told journalists that the AU has "reason to be optimistic. We saw the ARS troops occupy positions left vacant after the Ethiopian withdrawal. This was not expected, we have seen the Djibouti agreement is being implemented on the ground."
But in an earlier news conference Ethiopian Prime Minister, Mr. Meles Zenawi, indicated that he would be very surprised if the Al Shabab did not attempt to take advantage of the Ethiopian troop's withdrawal and try to take over the areas and other positions left vacant after the pullout.
The Shabab group effectively took control of Baidoa on Monday, several hours after the last convoy of 3,000 Ethiopian troops left the city, which has served as the seat of parliament and also houses the presidency, vacated by the former President Abdullahi Yusuf, who has sought refuge in Yemen.
Mr. Ping indicated that the occupation of the Islamist militants in Baidoa "was expected" as African Union troops had not been occupying the entire Somali territory and were not in Baidoa when the Ethiopian troops withdrew. He also revealed that "Ethiopia has said it would take action (to root out the militants) if the situation lasted,"
The African Union Mission in Somalia (AMISOM) is heavily under-funded. The AU chief said discussions were underway to deploy a United Nations Peacekeeping Mission on the ground in Somalia.
The decision to deploy the mission was delayed until June to allow the United Kingdom and the French to consider their positions on the same.
The two states, Ping said, however, agreed in principle to finance the AMISOM operations in Somalia to enable it police the Somali territory effectively.
Yemen has also agreed to finance the training of 10,000 Somali troops on the ground to make them professional and take measures to stabilise the country after 18 years of war.
Ethiopia
Read latest news and features from Ethiopia : business, politics, culture, life & style, entertainment and sports