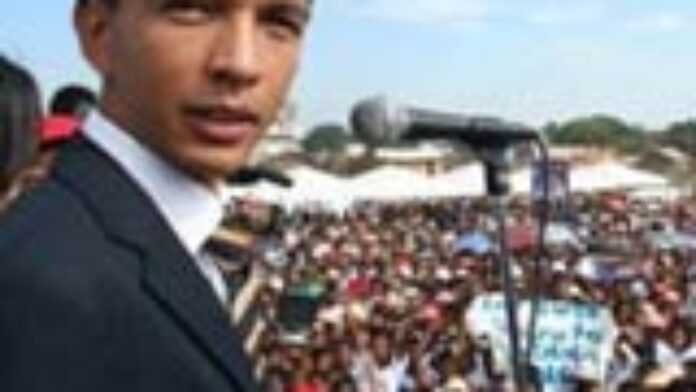 On 12 December 2007, a young, good-looking and charismatic former disc-jockey stormed onto Madagascar's political scene. Andry Rajoelina was voted in as the mayor of the capital, Antananarivo, beating the presidential candidate and taking 63 percent of the vote.
On 3 February 2008 news reports said he had been fired after weeks of political turmoil, in which over 80 people died in a power struggle with President Marc Ravalomanana. There were few other details available on his removal by government officials – or reactions from Rajoelina's supporters'.
Rajoelina was a superstar: a symbol of youthfulness and success, popular with female voters. His election campaign reached out to a swath of Malagasy society left disillusioned with a government they had lost trust in, analysts say. In particular, he called for young people to speak out and 'reclaim' their political voice.
As a successful entrepreneur at the helm of Injet, an advertising company, Rajoelina's appeal was instant. Just as that of Ravalomanana – a self-made millionaire – had been when he came to power after elections in 2001.
At the head of the TGV (Tanora Malagasy Vonona – Young Malagasy's Determined) movement, Rajoelina earned himself the nickname, TGV – as much a reference to his movement as to the French high-speed train.
From the beginning, Rajoelina positioned himself as one of the government's most vociferous critics, tapping into a vein of anti-government sentiment.
Rajoelina has accused the government of mis-spending public funds and clamping down on press freedoms. He has also denounced controversial plans to lease agricultural land to South Korean company Daewoo.
Head-to-head
In December 2008, the authorities closed VIVA Television, the mayor's television station, after it aired an address by former President Didier Ratsiraka. That move marked the beginning of a rapid decline in an already strained relationship with the president, which reached boiling point when anti-government protests led by the mayor deteriorated into violence in late January.
Rajoelina had demanded Ravalomanana's resignation, and announced on 31 January that he was in control of Madagascar's affairs – a move condemned by the African Union.
Despite his popularity in Antananarivo, Rajoelina has less support elsewhere in the country. "The problem is, people in the provinces didn't know this man until now," one of the mayor's supporters said during a demonstration in Antananarivo. "Now he must go and explain to people what he is doing."
Many people on the streets of Antananarivo have been left confused by recent events. For many, Rajoelina represented the first attractive alternative to a president who had himself harnessed the power of popular public support to propel himself to the presidency. Recent violence and strikes, however, have left some doubtful.
"This is not what the people want," said a shop assistant in the city. "We cannot afford not to work and we are afraid of the violence."
Rajoelina had called for a general strike, but on 2 February businesses and government offices in the capital remained open. Irin.
Madagascar
Read latest news and features from Madagascar : business, politics, culture, life & style, entertainment and sports