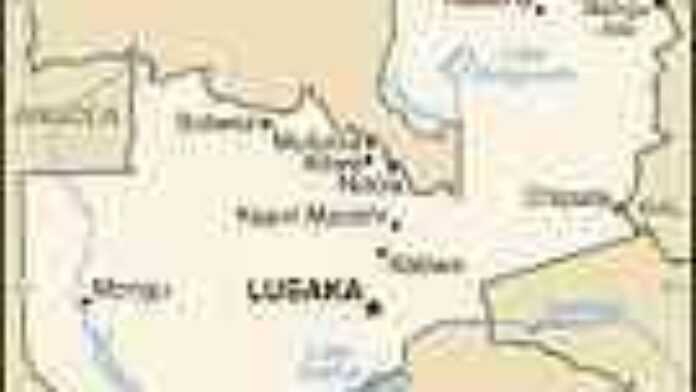 A Zambian court has sent former First lady, Regina Chiluba to jail for three-and-a-half years for receiving stolen property. Chief resident magistrate, Charles Kafunda, jailed Regina after he found her guilty on five counts of failing to account for properties suspected to have been stolen.
She was whisked to Lusaka Central prison as some relatives collapsed outside the court. But Regina kept on smiling, reports say.
Regina, Frederick Chiluba's wife, was acquitted on one count of failing to account for a motor vehicle suspected to have been unlawfully obtained, but the court also ordered the forfeiture of properties, mostly on the Copperbelt, and a Toshiba television set to the State.
Frederick Chiluba, himself is facing charges of theft of public funds amounting to $488,000, but denies any wrongdoing.
In handing down his sentence, Kafunda said there was enough evidence that Regina failed to account for the said properties during her defence, which he described as inconsistent.
This was in a case in which Regina was facing three counts of failing to account for properties involving US$188,000 suspected to have been stolen or unlawfully obtained, and one count of failing to account for a motor vehicle in her possession, reports say.
The other charges were receiving a Toshiba 61-inch colour television set suspected to have been feloniously stolen or obtained and failing to account for cash amounting to K474 million suspected to have been stolen.
Her arrest is seen as a major blow to the legacy of her husband who is credited with reintroducing multiparty politics to the southern African country.
Zambia has in the last six years jailed several prominent figures, including senior officials and ministers who served under Chiluba's 10-year administration, which ended in 2001. Chiluba ousted founding President Kenneth Kaunda in 1991 multiparty elections.
Meanwhile, former army commander Geojago Musengule has also been jailed for four years by a Zambian court for corruption while he headed the military under Frederick Chiluba.
Musengule's jailing comes after former air force commander Christopher Singogo was late last month jailed for six years and later four years in two separate corruption cases.
Zambia
Read latest news and features from Zambia : business, politics, culture, life & style, entertainment and sports