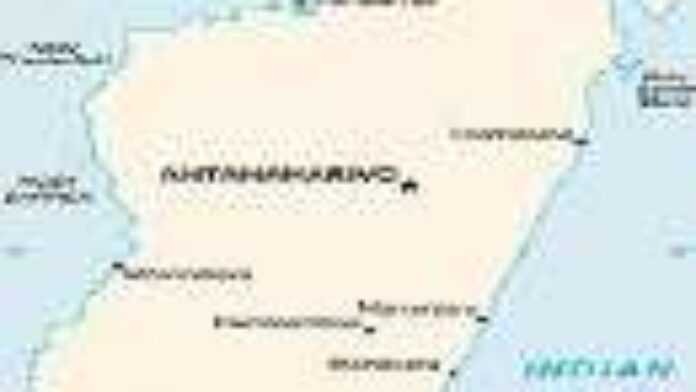 The power tussle between the President of Madagascar Mr. Marc Ravalomanana and opposition leader Mr. Andry Rajoelina, has played into the psychology of Malagasies, as the people divided into two factions, take to the streets in further demonstrations. Mr. Rajoelina, who went into hiding under a UN protection, emerged over the weekend to give the president a four hour ultimatum to resign. The President has shot back questioning the constitutional legitimacy of Rajoelina's proclamations.
Addressing his supporters barely an hour after the ultimatum was given, President Ravolamanana urged them to defend his authority. To this end, an equal amount of pro-government supporters heeded to his call and turned out in their thousands forming a barrier around the park where the presidential palace stands, to protect their man, insisting that he remains in office.
Sunday, President Ravolamanana was quoted as saying that he is 'still the president," and that he did not plan to resign in "the next 24 hours. "I have no fear of a referendum if necessary," he added.
Military control
Saturday, pro-opposition supporters gathered in orange T-shirts and hats in central Antananarivo, demanding the president to resign from office. They built big orange skips full of sand around the presidential palace and hundreds of them were, reported, to be walking around with weapons, waiting to see if the opposition would try to take the palace. Earlier reports had mentioned that opposition members had seized control of the prime ministerial offices and declared a take over. But, opposition supporters who have assembled in the center of the capital city of Antananarivo are yet to approach the presidential palace.
Mr. Rajoelina who is after the presidential seat vowed not to use force against the president and his supporters insisting that he has "clean hands" even though he has more than half of the army to his command. He also said "obviously it is me who controls the military". Rajoelina stated that he does not plan to kill the president nor does he have the "intention of sending in tanks and soldiers." Last Friday, the Nouvel Observateur indicated that Colonel Noel Rakotonandrasana, spokesman for Malagasy military insurgents, claimed that army tanks had been put on alert since Thursday night, in strategic areas within the capital, Antananarivo.
Legitimacy and Uncertainty
On the legitimacy of Rajoelina's proclamations, President Ravalomanana has insisted that they do not equate to constitutional power and that Rajoelina's opposition movement is and remains a street protest which uses terror and repression to survive. President Ravalomanana has vowed to rule on and called for "a national conference and respect democracy."
It is not yet clear what is going to happen next after Rajoelina stated earlier that "If he refuses (…) I cannot say if that means a military intervention." "We will let him leave quietly. I think the situation will evolve within the next 48 hours" He also said that he has "other options".
Although President Ravalomana has been credited with opening the island for multiple investments in the mineral and oil sectors, Mr Rajoelina has continued to accuse the president of being a tyrant who misspends public money and he has therefore been trying to establish his own cabinet making himself the president. Many of Rajoelina's supporters have also accused Ravalomanana for leasing large parcels of land to the Korean company, Daewoo, for rice cultivation. Some Malagasies claim the the rice which is directly exported to Korea has contributed in skyrocketing the commodity's price in the poor African nation.
Also read: Rajoelina "overwhelmed" by the crisis
Madagascar
Read latest news and features from Madagascar : business, politics, culture, life & style, entertainment and sports