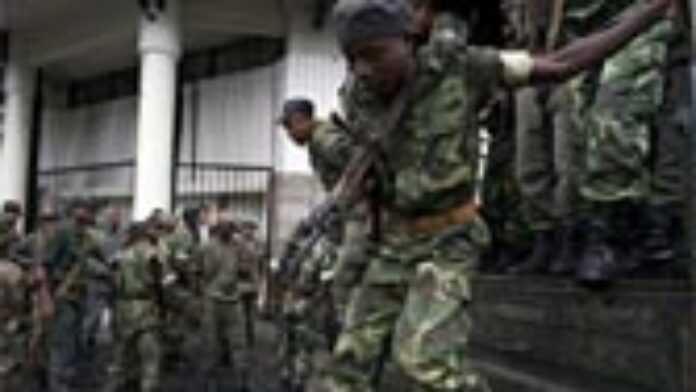 President of Madagascar Mr. Andry Rajoelina has resulted to oppression and intimidation of the country's Judiciary system in order to hold unto power and maintain civility in the now troubled country.
The president who took over power in what is described by many as a civilian coup sent troops to the country's constitutional court to arrest its head of security. The troops that brought Mr. Rajoelina to power stormed the court in mid-afternoon, yesterday, heavily armed. Upon disembarking from their cars, they fired warning shots to disperse spectators and journalists from the vicinity.
Minutes later, journalists were invited back into the court grounds and shown weapons that the soldiers claimed had been hidden in the court.
Witch hunting
President Rajoelina's soldiers claimed that the hoard of weapons were hidden there by the courts head of security and renegade soldiers loyal to former ousted president Mr. Marc Ravalomanana. Accused of destabilizing the country, the head of security of the constitutional court and three renegade soldiers were arrested.
While some observers have said that the the military operation was a witch hunt aimed at rounding up remnants of the armed forces who remained loyal to Mr. Ravalomanana other observers have said that the dictator-style raid on the court is an attempt to bully the Judiciary, having shown no regard to the system by their actions.
The streets of the country's capital, Antananarivo have had daily gatherings by backers of the former president. Supporters of Mr. Marc Ravalomanana have been demanding that the court reverses its decision to recognize army-backed president Rajoelina who forced Mr. Ravalomanana from power in March, after weeks of protests by his supporters. President Rajoelina has responded to these incessant street protests by banning the same type of on public demonstrations that enabled him grab power from Mr. Ravalomanana.
Growing unemployment
A week ago, two people died when police clashed with the unyielding protesters, loyal to Mr. Ravalomanana. However, as the country's political turmoil grows, the tourism industry, one of the country's biggest foreign currency earners, continues to suffer.
According to Madagascar's National Tourism Office (ONTM), in 2008, the industry brought in nearly $400m (£275m), directly employing 25,000 people, and indirectly employing as many as 100,000.
Vola Raveloson, director of ONTM was quoted as saying that "The impact of the crisis has been immediate. As soon as international tour operators saw the images of the violence they cancelled all trips to Madagascar."
According to statistics from the BBC, hotel occupancy in the capital stands at less then 10% and in the provinces many hotels have been forced to close while laying off staff without pay.
Madagascar
Read latest news and features from Madagascar : business, politics, culture, life & style, entertainment and sports