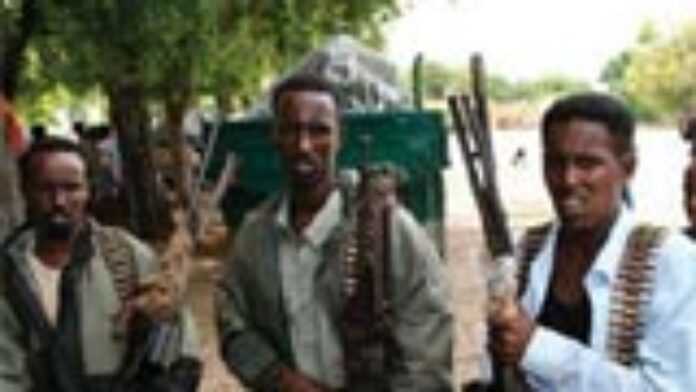 Somalia is on the verge of becoming a country under the authority of al-Qaeda linked Islamist militants as rebel groups, al-Shabab and Hisbul-Islam, close in on the presidential palace. Military and intelligence sources insist it is by no means certain the fragile Western-backed interim government can defend itself.
According to reports, many of the government's troops have already switched their allegiance to the rebels, further weakening the crumbling government of Somalia. The Islamist rebels have taken the battle near the presidential palace, threatening the rule of law. The 6,000 Islamist rebels are reported to be over-powering challenges from the 4,000 government forces and African Union (AU) troops. Analysts believe that it is only a matter of time, before the Islamist take full control of the presidential palace, if the international community does not step in immediately.
Ahmed Ould Abdallah, the UN special representative for Somalia said the international community must do something: "What we have in Somalia is a government – weak, fragile – but it is a government and we have a moral, political obligation to help it," Mr. Abdallah said in Ethiopia. In response, Sierra Leone has offered a battalion of troops to the African Union as efforts are made to boost the AU's under-resourced peacekeeping effort in Mogadishu.
Over 120 civilians have been killed and over 25,000 others forced from their homes as Somalia government forces continue to fend off the offensive from well-trained radical guerrillas in Mogadishu. The fightings have continued in the strongly Muslim country despite the introduction of Sharia law to appease the guerrillas.
Previous AU peacekeeping missions in Somalia have failed to stop the fighting and provided more than very limited protection to civilians. A report from the UN has claimed that more than 16,000 civilians have been killed by fighting since the start of 2007 and more than one million displaced. Also, the droughts in the Horn of Africa country has left nearly half the Somali population malnourished and some 3.2 million people in urgent need of food aid.
Somalia
Read latest news and features from Somalia : business, politics, culture, life & style, entertainment and sports