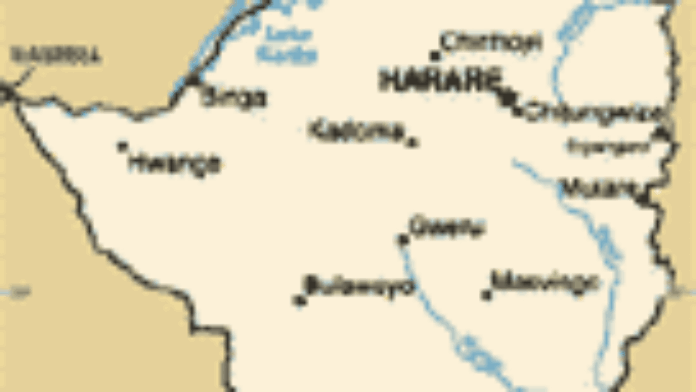 The ongoing protracted fight pitting Finance minister Tendai Biti and Central Bank governor Gidion Gono has taken a new shocking twist after it emerged that a woman is at the centre of their feud.
Monica Kanyepi is said to be the woman's identity.
The stunning revelation follows a 15-page letter from Gono on May 11 to Prime Minister Morgan Tsvangirai in which he accuses the MDC secretary general of leading a personal crusade against him because of a Reserve Bank probe into alleged money laundering activities at a Harare law firm where the minister is a partner.
Sources say Kanyepi had a three-month romance with Gono in 1996 when she was already seeing Biti. "The fight between these two is between the legs. A whole country and whole world is being dragged south of the thicket." said one government official.
Kanyepi gave birth shortly after her fling with Gono and a paternity dispute ensued. In the end, Biti accepted paternity "and they have been together since" with Kanyepi, who plays his mistress.
On Friday Biti said "I want to say that I do not have a personal fight with anyone. I was given a mandate by the government to carry out a job and that job will be done."
In the letter Gono said "On several occasions, the distinguished minister has accused me of killing this economy through printing money," Gono said in the letter.
"I have suffered and continue to suffer abuse and ridicule at a time when you as prime minister have been telling the nation that by-gones are by-gones and that we need to move forward," he added.
Gono also asked that Tsvangirai grant him "immunity/protection at law against victimisation by ministers, some of who may have been involved in nefarious/regrettable activities before."
The Gono/Biti feud is threatening to derail the government's efforts to roll back a decade-long political and economic crisis.
Biti's party, the MDC, wants Gono removed from his post but Zanu PF hardliners say he will not be stampeded out of office and humiliated – suggesting a quieter cajoling in private and dignified exit would have persuaded him to step down after six years on the job.
When Gono was first appointed in November 2003, inflation was at 619.50 percent. At the time of his re-appointment, the rate was estimated in multiples of billions.
Zimbabwe
Read latest news and features from Zimbabwe : business, politics, culture, life & style, entertainment and sports