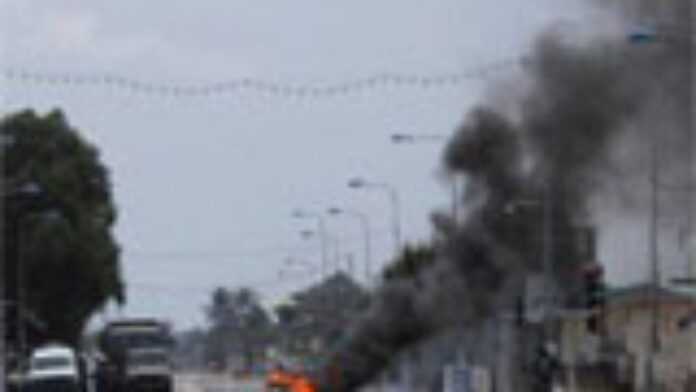 "I am and always will remain the president of all Gabonese," the new president, Ali Bongo, declared following the proclamation of his victory Thursday afternoon in Libreville. At the same time, numerous demonstrations against the new president erupted in the capital, Libreville as well as Port-Gentil, the second largest city and opposition stronghold. The army, on a nationwide deployment, is trying to restore order. Meanwhile, concerned for the safety of its many citizens living in Gabon, France has called for calm.
The Gabonese have been unleashed. Many protests and damages to public property were identified this afternoon in various neighbourhoods, especially close to the National Assembly and Senate. Security forces were deployed to Kinguélé after anti-Bongo demonstrations turned violent. Residents made mention of heavy gunfire fire from troops deployed into the area. Other violent incidents also took place yesterday afternoon in at least three other districts. North of the city, in the Plein-Ciel area, cars were burned while hundreds of youths protested chanting anti-Ali Bongo and France slogans. At Nkembo, a neighbourhood east of Libreville, residents told the AFP that people damaged whatever they could lay their hands on. In Rio, east of Libreville, protests were also reported. Many demonstrators chanted anti-French slogans and threatened to "kill the whites." Tension is greatest in Port-Gentil.
Extreme tension in Port-Gentil
Shortly after the announcement of the election results, the Consulate General of France in Port-Gentil in the south-west, was set on fire by opposition supporters. They also stormed the city's prison freeing inmates. The demonstrators accompanied by the freed prison inmates then headed downtown, where they erected barricades using the remains of burnt vehicles. Despite a heavy intervention by security forces, the situation remains tense.
France calls for calm
Paris has called for a return to calm in Gabon. Apart from the burning of the French Consulate in Port Gentil, "Total and Schlumberger have also been attacked," according to the Ministry of Foreign Affairs. French Secretary of State for Cooperation, Alain Joyandet, has asked French nationals residing in Gabon to "stay home". Head of French diplomacy, Bernard Kouchner, has assured French nationals that a "device" is in place "ready to protect" them should the need arise. French residents in the country have already, reportedly, gathered at the French military base in Port-Gentil. The number of French people living in Gabon is estimated at about 10 000. Mr. Kouchner announced yesterday afternoon that France was in contact with the various candidates who took part in the presidential election, including the three major contenders, namely; Ali Bongo, the designated winner, and also Andre Mba Obame and Pierre Mamboundou.
Omar Bongo Ondimba's eldest son and his camp celebrated their victory yesterday afternoon, in Libreville. In the evening, an eerie calm seemed to have settled on the country. No deaths have been officially reported.
France
Read latest news and features from France : business, politics, culture, life & style, entertainment and sports