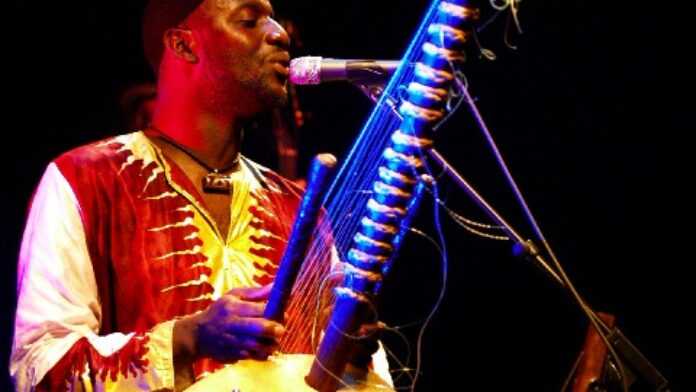 Clutching her walking stick, 80 year-old Audrey Federa from Worthing, scuttles to the front of the small Italianate-style church in Brighton, and starts girating energetically. An electric set by virtuoso Senegalese kora player, Seckou Keita, is approaching its end and Keita has invited the capacity audience to dance. Most of them do. "I don't know what came over me" said Audrey catching her breath after the show. "The music just lifted me to my feet and I felt I had to dance."
Clutching her walking stick, 80 year-old Audrey Federa from Worthing, scuttles to the front of the small Italianate-style church in Brighton, and starts girating energetically. An electric set by virtuoso Senegalese kora player, Seckou Keita, is approaching its end and Keita has invited the capacity audience to dance. Most of them do. "I don't know what came over me" said Audrey catching her breath after the show. "The music just lifted me to my feet and I felt I had to dance."
Nearing the end of one-month UK tour Keita, performing with his quintet, admits that this show, performed as part of Brighton's fifth annual Sacred Music Festival, was different from all others. "We have never done this set before and the response was fantastic. There was something very intimate about playing in a church rather than in a club or a big auditorium."
The kora is a traditional 21-stringed instrument made from a calabash and played throughout West Africa. It is played with two thumbs and two fingers and sounds like a cross between a Celtic harp, a zither and Spanish guitar. In Keita's hands, the versatility of the kora is exposed and it sometimes sounds as if there are several instruments playing at once. This is especially the case when he plays his 42-stinged double-necked kora.
The musicians in the international quintet group are nimble with a violin, a double-base, percussion and Binta Suso's soaring vocals they expertly blend jazz, classical, Flamenco, Latin, Arabic music with more traditional West African sounds. "There are connections between, say, Cuban and Indian sounds and the repertoire of the kora that can be explored without losing the distinct flavours of the different traditions and styles" explains Keita.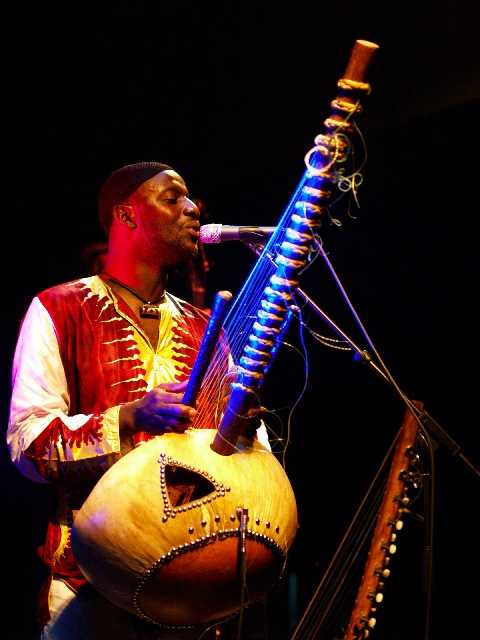 The highlight of the evening however, is when Keita is left alone on stage with his kora. Starting slowly, and building in speed and rhythmic complexity, Keita weaves melodies and rhythms, demonstrating breathtaking finger-work and musicianship. Not for nothing is he known as "the Hendrix of the Kora". The audience were enraptured. "You feel each note and each vibration tingling in your body" enthused Atiya Gourlay from Hove as she queued to buy a CD after the show. "It is almost like you are being played inside."
His songs, touching on universal themes of love and life, are part of a long Griot tradition of imparting advice through music. "The Griot are traditionally counsellors. My grandfather was a master kora-player and people travelled from far-and-wide for his guidance. He was the one who taught me the kora." Although Keita insists that he is not at all political, one of his songs, Touga, is about the effect of climate change on people living off the land. Another song, Fondingke, is a purposely positive song which challenges Western perceptions of Africa as solely a land of poverty, war and pestillance.
Early in his set, Keita pauses to talk about the history and the importance of the kora in West African culture. "The cow-gut used for the traditional kora is also used as a fishing-line. In fact, in Senegal we joke that if a kora player doesn't make it as a musician he can always become a fisherman." With a talent as prodigious as his, it is not likely that Keita will be turning to angling any time soon."
The Other Afrik
The Other Afrik is an alternative and multi-faceted information source from Afrik-News' panel of experts. Contributions include : opinions, reviews, essays, satires, research, culture and entertainment news, interviews, news, information, info, opinion, africa, african-american, europe, united states, international, caribbean, america, middle east, black, France, U.K.