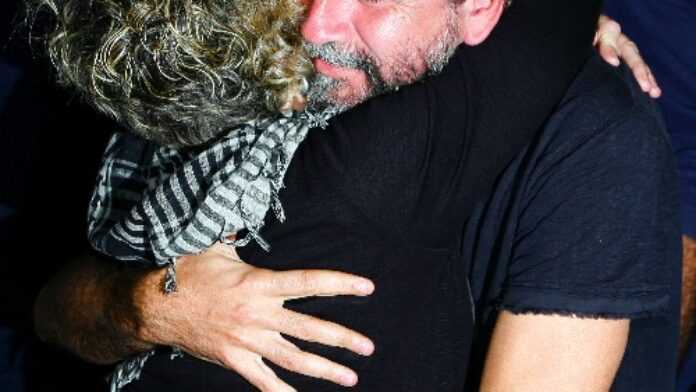 Last night as flight VAD652 was preparing for take-off news came through that the Moroccan authorities had refused the plane permission to land. On board were four Spanish government officials, a doctor and the Nobel Peace Prize nominee Aminatou Haidar who has been on hunger strike in Lanzarote airport since being deported there from her home in Western Sahara on 14th November. It had been assumed that the 22 minute flight to Laayoune had been agreed to by the Moroccan government but today it emerged that no such agreement had existed.
Five hours before the plane was due to take off, the Moroccan ambassador in Madrid had been informed that Spain would be flying Ms Haidar to Western Sahara cabinet chief Spanish Foreign Ministry, Agustin Santos, explained. Spain had tried "to facilitate the exercise of Ms Haidar´s right to return to her country" he said and pointed out that they had even given her permission to travel without a passport. "Everything that is it is possible to do we have done. Spain can do nothing more" he said.
The news came as a shock to Haider and her supporters at the airport who had been led to believe that last night´s flight had merely been delayed due to logistical reasons. Indeed at a press conference in the airport, Spanish officials had handed out confidential copies of email correspondence between Spanish and Moroccan air traffic controllers. The correspondence showed that at 8.24pm, minutes before the plane was due to depart, Moroccan air traffic control sent an email stating that a flight plan should have been "sent with 24 hours notice". It now seems likely that this was a diplomatic way of for the Moroccan´s to reject a Spanish attempt to force her hand.
Last night, as Ms Haidar was stretchered out of the ambulance back to her makeshift home in the airport , the mood was somber among the 60 or so supporters who have been with her throughout. For some, the emotion was too much. "I can´t believe Morocco can treat her in this way." said a tearful Imelda Gonzalez. "Aminatou believed she was on her way home to her children and now she is back here". Today the mood has turned to one of frustration and anger. "Obviously we are all very disappointed that Aminatou did not fly home last night and that the Spanish government have said that they can do nothing more" said actor and Western Sahara activist, Willie Toledo. "But it is now even more important than ever to try to get the international community to take immediate action".
It is a far cry from the scenes the previous evening as a jubilant crowd cheered and chanted as the ambulance drove away to the waiting plane. After nineteen days on hunger strike it seemed that this slight woman, known as the "Saharawi Gandhi", had won a remarkable victory against a normally intransigent Moroccan state. Haidar had been deported from Moroccan-controlled Western Sahara after refusing to put down her nationality as Moroccan on the arrival form when returning from a trip abroad. The Moroccans confiscated her passport and expelled her to the Canary Islands where she staged a very public hunger strike in the airport terminal.
Refusing an offer of refugee status from the Spain, Haider demanded the return of her passport and argued that her expulsion was in breach of Article 12 of the International Covenant of Civil and Political Rights which states that "[n]o one shall be arbitrarily deprived of the right to enter his own country." She also accused the Spanish of complicity in her deportation pointing out that she should not have been allowed to travel on enter Spain without a passport. The Moroccan´s meanwhile have accused Haidar of provoking the situation.
Her deportation has been condemned by human rights organisations including Amnesty International and Human Rights Watch as well as numerous political figures. Supporters including Nobel Literature Laureate, Jose Salamango, have flocked to visit her whilst others have sent messages of support including actors Javier Bardem and Terry Jones, film directors Pedro Almodovar and Ken Loach and musicians Manu Chao and Brian Eno. On Tuesday, an Early Day Motion was tabled in the House of Commons expressing "dismay" at Ms Haidar´s expulsion and the previous week the US State Department issued a statement expressing concern for her well being and urging " a speedy determination of her legal status and full respect for due process and human rights." The Spanish government have also asked United Nations Secretary General Ban Ki-moon to get involved.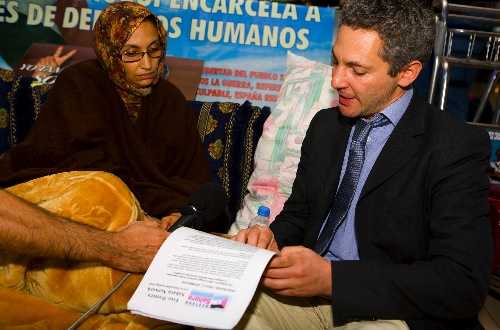 Unable to walk and with a perforated ulcer Haidar has remained steadfast throughout, vowing to continue her hunger strike and stating that her action should not be seen as an isolated act of defiance of a single individual but part of the struggle of the entire Saharawi people. "It is true that this hunger strike is about the individual right of one person to return to her home and her family" she said "But it also about the collective right denied to the Saharawi people to live freely in their native land." Whilst she remains mentally strong her her supporters are concerned that her physical strength is ebbing away. In the past few days she will talk to people for around an hour and then sleep for much of the rest of the day. On the 20th day of her hunger strike however, Aminatou Haidar did not get out of bed at all.
PHOTOS by Borja Suaez
The Other Afrik
The Other Afrik is an alternative and multi-faceted information source from Afrik-News' panel of experts. Contributions include : opinions, reviews, essays, satires, research, culture and entertainment news, interviews, news, information, info, opinion, africa, african-american, europe, united states, international, caribbean, america, middle east, black, France, U.K.