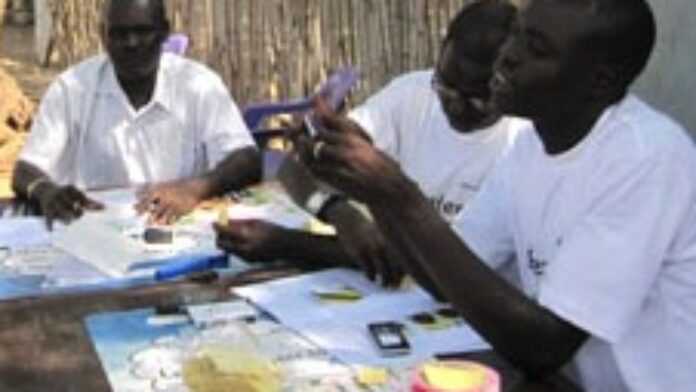 The voters registration process was conducted in a peaceful and transparent manner, The Sudanese Network for Democratic Elections (SUNDE) has revealed. This comes after the South Sudan Judges Commission last week said that they were looking into complaints from a cross section of civilians and organizations indicating that the voters' registration was not carried out in certain areas, among other issues.
Voters registration which has been going on for almost one month in southern Sudan ended on December 7th 2009. Elections are scheduled to take place on April 11th 2010.
The chairman of SUNDE, Benjamin Lemi, said in a press interview that there were no reported cases of bribery, intimidation or violence in all of the voters registration centers in Southern Sudan.
He said, "We have not heard of any problem during the registration of the voters. Our observers reported strong cooperation with registration officials. No cases of bribery or intimidation were reported."
He however said that the voter registration process could have been improved with better planning and preparations by the National Electoral Commission.
He said, "Deadlines for the registration process were released on October 4th 2009, less than a month before the process began, and this caused many electoral processes to be delayed or implemented at last minute. This caused voter registration to be delayed in some counties".
Lemi has requested the government to ensure security during the elections next year. He also encouraged the National Elections Commission to continue cooperating with the government and the Ministry of Interior to deploy well-trained security personnel to ensure fair and peaceful elections.
Last week the Southern Sudan Electoral Committee announced that more than three million voters had registered during the period of the voter registration exercise, with at least 4 million southern Sudanese expected to be registered by the end of the registration exercise.
Southern Sudanese living in Uganda, Kenya and some other selected countries were also registered to participate in next year's elections. This came after the semi-atonomous government of southern Sudan threatened to boycot the elections following the Khartoum government's initial decision not to allow Southern Sudanese living outside their country to register in their countries of residence.
A recent meeting held by the South Sudan Judges Commission in Juba sought to look into complaints concerning the voter registration process. According to David Odit, an official of the commission, "A cross section of civilians and organizations complained that the voters' registration was not carried out in some remote places. Others say that some people were not allowed to register. We are looking in all those complaints.''
Sudan
Read latest news and features from Sudan : business, politics, culture, life & style, entertainment and sports