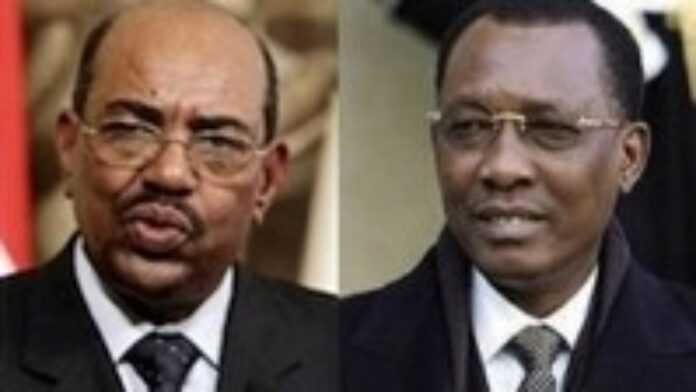 Chad and Sudan have moved to mend broken diplomatic ties in a bid to bolster security in both countries. President of Chad, Mr. Idriss Deby has travelled to Sudan to meet with the Khartoum government of Omar al-Bashir.
President Deby is in Sudan for the first time since both countries broke relations in 2004, following incessant wars around the borders of Darfur region, and the Sudanese authorities are reportedly befuddled over the shock visit. Nonetheless, Mr. Deby was greeted at Khartoum airport by Sudan's President Omar al-Bashir.
This visit undermines the mistrust that exists between Sudan and Chad. And experts believe it is in the interest of both countries to ensure a functioning peace treaty. Last month the two countries signed an agreement aimed at boosting security on the border; a treaty that has been lauded as having potentials and credibility. President Deby's visit to Khartoum is a step in the right direction as it could put the last piece of the puzzle to this plan.
A joint border force, with each country providing some 1,500 men, has been proposed, AFP has reported.
Both countries fell-out when Sudan accused Chad of backing Darfur rebel groups, and Chad accused northern Sudan of backing armed militias active in eastern Chad. Both rebel groups have often functioned as an extra line of defense for each country. The backlash of this rebel support has been drastic humanitarian problems in both areas, leading to some 300,000 deaths in the Darfur conflict since 2003, the United Nations office for the Coordination of Humanitarian affairs has suggested.
Sudan
Read latest news and features from Sudan : business, politics, culture, life & style, entertainment and sports