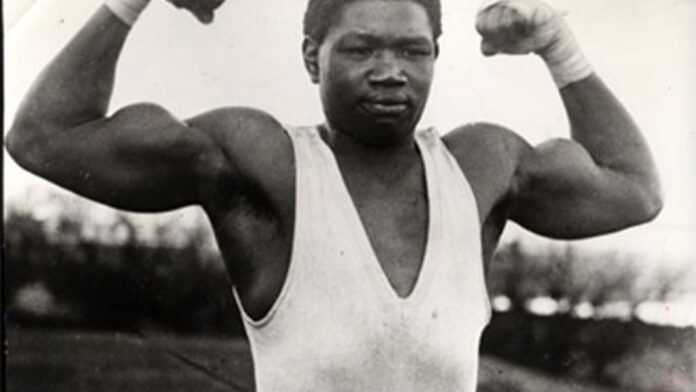 The French comic book recounts the tragic life and career of boxer M'Barick Amadou Fall, one of boxing's most prominent and yet shockingly unacknowledged champions.
He was black, French and world boxing champion in 1922. To the present day, historical records have failed to properly retain the legendary story of Senegalese boxer Louis Fall, a.k.a. "Battling Siki". Two French comic book artists, Aurélien Ducoudray and Eddy Vaccaro, haphazardly stumbled upon the amazing trajectory of this denigrated champion and undertook the difficult task of combining archive research and imagination to revamp the image of this shockingly unacclaimed boxing champion in their first comic book entitled "Championzé" (ed. Gallisol, 2010).
In a rampantly racist society, boxer 'Battling Siki' rose to the ranks of world champion and yet no one seems to remember him! It is not so much a story about boxing as it is the life story of a man; that of a black man who fought to earn fame and glory in a predominantly white world, and who was brutally dispossessed of any recognition after his death. "Sent back to the oubliette", in the words of scriptwriter Aurélien Ducoudray. "I do not know much about boxing", explains Eddy Vaccaro, the draftsman, "what I'm interested in, is people. And people are never black or white".
Athough epic and unpredictable, Battling Siki's story is mysteriously absent from history books. Eddy Vaccaro and Aurélien Ducoudray could change that. A truly rich and cleverly crafted comic book, "Championzé" recounts Louis Fall's tempestuous life as a Senegalese immigrant in colonial France as well as his triumphant and yet tragic boxing career. The title "Championzé " derives from the mixing of the words "champion" and "chimpanzee". A tasteless quip that properly illustrates the racism of most Europeans in the 1920s as demonstrated by the near systematic social rejection of black stars and public figures. The story is fascinating and the drawing style, although monochrome (black and white), is varied, nervous and attractive.
Born M'Barick Amadou Fall in the city of Saint Louis, Senegal in 1897, (Senegal was, at the time, a French colony) he lived in abject poverty and had to fend for himself as a child. After changing his name to the more Christian sounding Louis Fall, he would then successfully become champion of France, of Europe and of the world by defeating French sensation Georges Carpentier in Paris in 1922.
Both French and black, the boxer had the prize list and the qualities to aspire to posthumous greatness. Unfortunately, his victory against Carpentier was only half-heartedly recognized by an incompetent press due to fraudulent accusations of money laundering and corruption. His body, scarred and riddled with bullets, was discovered sprawled on the New York pavement in 1925. He has since then faded into near total anonymity. According to Aurélien Ducoudray, even today, "the most prestigious boxing encyclopedias only mention the "singular Senegalese" in a few laconic sentences under the chapter devoted to fixed fights".
"Championzé" pictures the life of a man who took charge of his own destiny in a particularly difficult context; a time when black men were perceived like exotic curiosities, at times even compared to animals. Battling Siki will have fought in the world's most prestigious arenas (Paris, New York, Amsterdam, Dublin) and delivered an untiring battle against the omnipresent and terribly degrading racial climate of Western Europe in the 1920s.
A staunch critique of the media in colonial France
Albeit posthumously, this comic book dedicated to the outstanding boxer Louis Fall could give him some of the historical recognition he so deserves. The French duo also offer a subtle critique of the media in the 1920s as they aptly portray a flock of racially-bent journalists unable to give an even remotely balanced account of Louis Fall's personality and boxing feats.
Aurélien Ducoudray is also a former journalist. To enrich his story and give it a biographical dimension, he read through many articles of the time. According to his research, historical records quote Louis Fall only very briefly (as a mere footnote in most boxing encyclopedias) and news articles essentially deride him by making tasteless wordplays, either glossing over his proverbial "dark side" or distastefully making fun of his physical features. Moreover, the white journalists of the time had only retained the least glimmering aspects his of persona, namely his penchant for alcohol and proclivity for street fights. Due to the lack of historical data, the two Frenchmen revisit Battling Siki's story with subtle creativity, thereby offering the readers not a historical but a fictionalized biography.
According to scriptwriter Aurélien Ducoudray, the most important lesson one can derive from the boxer's storied carreer is that "beyond is it's obvious historical value, the story we chose to tell is also the moving narrative of a man who stood proud and pursued his dreams in the face of unsurmountable adversity". The story, need we remind you, is far from being a feel-good fairy tale. Despite being one of world boxing's greatest champions, Louis Fall, a.k.a. "Battling Siki", has fallen into oblivion after been vilely assassinated in the streets of New York.
To those who know about comic books, "Championzé" may call to mind other historically-charged comics such as Art Spiegelman's Maus (on the holcocaust) or Joe Sacco's Gorazde (on the war in Bosnia). Perhaps not as historically dense as the two other quoted works, "Championzé" is an invitation to rediscover racism in colonial early twentieth-century France, a hideous facet of the country's history.
The Other Afrik
The Other Afrik is an alternative and multi-faceted information source from Afrik-News' panel of experts. Contributions include : opinions, reviews, essays, satires, research, culture and entertainment news, interviews, news, information, info, opinion, africa, african-american, europe, united states, international, caribbean, america, middle east, black, France, U.K.