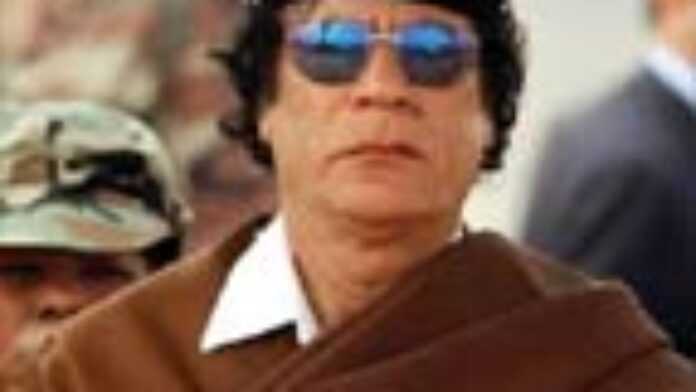 Libya's president Mr. Muammar Gaddafi has called on all Muslims to shun Switzerland and begin a jihad against the Alpine nation. The antagonism is reported to be a spillover of a diplomatic row between Libya and Switzerland that began in 2008, following the arrest of Muammar Gaddafi's son, Hannibal Gaddafi's, in Geneva after he was accused of assaulting two servants.
Gaddafi's declaration of a 'holy war' on Switzerland came while speaking at a meeting to mark the birthday of the Prophet Muhammad. "Let us wage jihad against Switzerland, Zionism and foreign aggression. Any Muslim in any part of the world, who works with Switzerland is an apostate, is against Muhammad, God and the Koran," Gaddafi was quoted as saying.
Libya has stopped issuing visas to citizens from many European nations, prompting condemnation from the European Commission. This move by Libya was in response to reports that Switzerland had blacklisted 188 high-ranking Libyans, including Mr. Gaddafi and his family, denying them entry permits.
When Gaddafi's son was accused of assaulting two servants while staying at a luxury hotel in the Swiss city, Libya retaliated by canceling oil supplies, withdrawing billions of dollars from Swiss banks, refusing visas to Swiss citizens and recalling some of its diplomats.
The European Commission condemned Libya's visa issuing decision to Europeans in the Schengen border-free zone.
Even though the charges against his son were dropped, Libyan authorities detained two Swiss businessmen. Nonetheless, one of the Swiss was finally allowed to leave the country earlier this week but the second was transferred to jail, where he faces a four-month term on immigration offenses.
Minarets
In a November 2009 referendum about 57.5% of Swiss voters approved a constitutional ban on the building of minarets. This referendum has been cited as part of the reason behinds Gaddafi's radical diplomatic actions against Switzerland.
Minarets are distinctive architectural features of Islamic mosques- generally tall spires with onion-shaped or conical crowns, usually either free standing or taller than any associated support structure; the basic form includes a base, shaft, and gallery. Styles vary regionally and by period.
Jihad
The term "Jihad" used without any qualifiers is generally understood in the West to be referring to holy war on behalf of Islam. In broader usage and interpretation, the term has amassed both violent and non-violent meanings.
It can simply mean striving to live a moral and virtuous life, spreading and defending Islam as well as fighting injustice and oppression, among other things. The relative importance of these two forms of jihad is a matter of controversy.
Within Islamic jurisprudence jihad is the only form of warfare permissible under Islamic law, and may be declared against apostates, rebels, highway robbers, violent groups, non-Islamic leaders or non-Muslim combatants, but there are other ways to perform jihad as well, including civil disobedience.
The primary aim of jihad as warfare is not the conversion of non-Muslims to Islam by force, but rather the expansion and defense of the Islamic state.
Switzerland
Read latest news and features from Switzerland : business, politics, culture, life & style, entertainment and sports