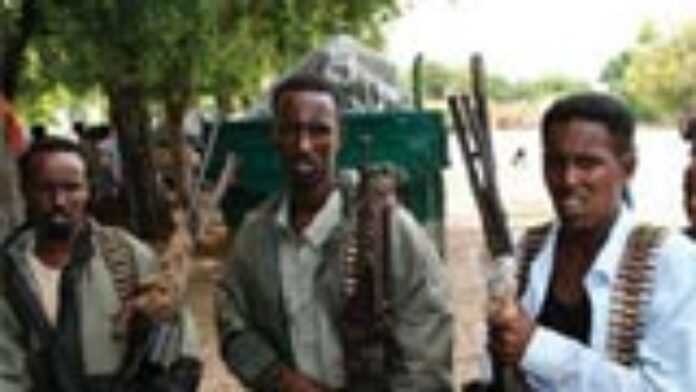 Influential Muslim group have joined forces with African Union troops to wage war on al-Qaeda-linked al-Shabab military group in Somalia. The Ahlu Sunna Wal Jamaa group signed the military alliance in the African Union head quarters in Ethiopia.
"We have agreed to share power [Ahlu Sunna African Union forces and Somali government forces]" Somali Prime Minister Omar Abdirashid Ali Sharmarke was quoted at the signing ceremony.
The Ahlu Sunna Wal Jamaa is reportedly fighting al-Shabab over control of areas in central Somalia have decided to gain a military advantage by merging with African Union troops to defeat their insurgent rivals. Ahlu Sunna and al-Shabab have very different interpretations of Islam.
Head of the African Union Mr. Jean Ping has welcomed the military alliance as a historic opportunity for peace- urging al-Shabab to lay down its arms.
According to reports, Ahlu Sunna will be given five ministries and its forces will be incorporated into the government's security structures.
Despite the praise of Ahlu Sunma by the African Union, some factions of the group have opposed the deal.
Al-Shabab is in command of much of southern Somalia, while the government, backed by AU peacekeepers, controls only a small part of the capital, Mogadishu.
Somalia has been without an effective central government since 1991.
Al-Shabab openly declared their alliance with al-Qaeda and has been steadily moving forces up towards Mogadishu, and continues to challenge the UN-backed transitional government that emerged in 2004.
Analysts have said Ahl Sunnah Waljama is a peaceful moderate Islamist group that belongs to the Suffi tradition of Islam. They recently took up arms for the first time in Somalia's twenty year civil war after they were subjected to violence by the Islamic extremist groups of Al-Shabab and Hisbul Islam.
According to reports, Ahl Sunnah Waljama currently controls the towns of Gurieel, Dhuusamareeb, and Aabudwaaq in Galgadud region. They seized control of these towns after heavy battles against Al-Shabaab and Hisbul Islam forces.
Ethiopia
Read latest news and features from Ethiopia : business, politics, culture, life & style, entertainment and sports