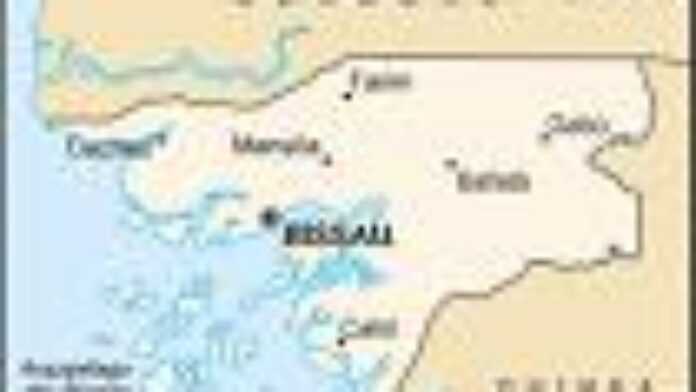 Civil unrest in Guniea-Bissau has intensified as rebellion leader threatens to kill kidnapped prime minister, while the army chief remains in detention in what has been described as a coup attempt. Portugal and France have immediately condemned the military juntas, calling for a return to constitutional order in the country.
The leader of the rebellion General Antonio Indjai has however stated that kidnapping and detention of the prime minister Mr. Gomes Junior and army chief Gen Jose Zamora Induta was as a result of an internal military problem, and not a coup. Nonetheless, the Chief of Staff and 40 other officers were still being held in the capital, Bissau.
"Events which occurred this Thursday morning are a purely military problem and do not concern the civil government. Military institutions remain, and will remain, submissive to political power," Gen Indjai said in a statement on national radio, according to the AFP.
Reports have revealed that the country's National radio interrupted its programs to play military music, which is considered code for a coup. And Gen Indjai is earlier reported to have said he wants to try the Prime Minister Mr. Gomes Junior as a criminal.
"Cadogo is a criminal and he must be tried as one. If the people continue to go out into the streets to show their support for Carlos Gomes Junior, then I will kill Carlos Gomes Junior, or I will send someone to kill him," Gen Indjai added.
Hundreds of people took to the streets to demand the release of Prime Minister Gomes Junior. However the crowd was first to disperse following the general's threat.
Since its independence from Portugal in 1974, Guinea-Bissau has suffered several coups. Last year, army officers assassinated President Joao Bernardo Vieira, but President Malam Bacai Sanha, who heads the country, has quickly played down this latest incident, saying the situation was now under control.
This was a problem between soldiers that had spilled over into the civilian government. But I will use my influence to find a friendly solution to this problem," President Malam Bacai was quoted as saying.
Reports have claimed that the Prime Minister has been released and is now under house arrest. Local reports also claim that Gen Indjai is being backed by Rear Admiral Jose Americo Bubo Na Tchuto- former navy chief and suspected leader of a 2008 coup.
Rear Admiral Jose Americo Bubo Na Tchuto was released last year after spending a year in exile in The Gambia. He sought refuge in a UN building in Bissau where he has been since December.
Guinea-Bissau
Read latest news and features from Guinea-Bissau : business, politics, culture, life & style, entertainment and sports