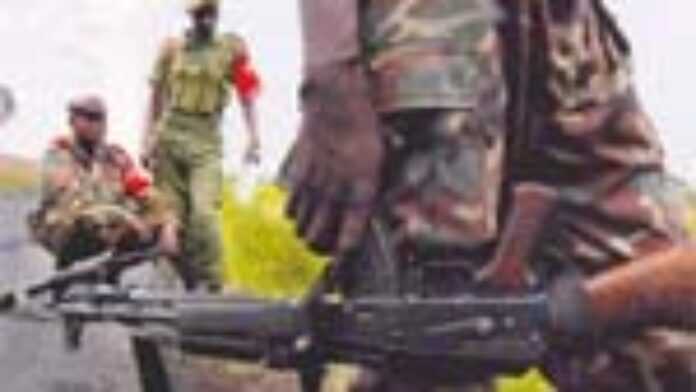 Rebels in the Democratic Republic of Congo attacked an airport in the north-east region of the country killing a Ghanaian peacekeeper and a United Nations employee. It is not yet clear which rebel group was behind the attack.
The armed rebels attacked the town of Mbandaka killing several civilians as UN peacekeepers and Congolese government forces battle to reclaim control of the airport.
"There is heavy fighting going on right now, especially around the airport," Madnodje Mounoubai, spokesman for the UN mission in DRC Congo was quoted by Reuters news agency on Sunday.
Nonetheless, the UN is in talks with DR Congo officials on withdrawing its 20,500-strong peacekeeping mission, Monuc which is the biggest UN operation in the world. The mission's current command expires in May.
According to reports, the rebels behind this recent attack were thought to be from the Enyele tribe – a Lobola sub-tribe. At least 30 fighters were believed to have been part of the Mbandaka attack.
Mbandaka is the capital of Equateur province, where over 100 people were killed and over 200,000 people displaced in clashes between rival tribes last year.
The history of DR Congo has been one of civil war and corruption. After independence in 1960, the country immediately faced an army mutiny and an attempt at secession by its mineral-rich province of Katanga.
DR Congo bears what has been termed the deadliest conflict since WW II. The conflicts have left the country in the grip of a humanitarian catastrophe.
The decade-long war has pitted government forces, supported by Angola, Namibia and Zimbabwe, against rebels backed by Uganda and Rwanda, and DR Congo's economy and stability has suffered ever since; most especially its civilian populace.
The war has claimed an estimated three million lives, either as a direct result of fighting or because of disease and malnutrition. It has been called possibly the worst emergency to unfold in Africa in recent decades.
Despite a peace deal and the formation of a transitional government in 2003, people in the east of the country remain in terror of prowling militia and the army.
The eastern regions are still plagued by army and militia violence.
DR Congo
Read latest news and features from DR Congo : business, politics, culture, life & style, entertainment and sports