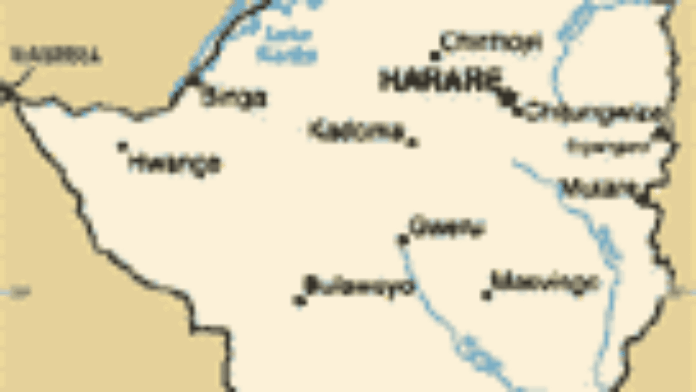 Zimbabwe's maximum prison – Chikurubi Maximum is on high alert after seven dangerous inmates including a man accused of plotting to assassinate President Robert Mugabe attempted to escape.
Albert Mugove Matapo is accused of plotting to kill Mugabe at his residence way back in 2007.
According to police the foiled escape happened around 2am Tuesday.
Preliminary investigations reveal that Matapo and company got assistance from at least one prison officer. Sources at the prison say the seven have been placed under solitary confinement.
Zimbabwe Prison Services spokesperson Chief Prison Officer Priscilla Mtembo confirms the foiled escape. "Seven unconvicted 'D' Class prisoners attempted to escape from Chikurubi Maximum Prison. The prisoners used a hacksaw to cut the burglar bar and smashed the windowpane in their cell using a claw hammer," she said.
Alarm was raised after an alert guard heard noise from 'D Class' section which is reserved for dangerous criminals including rapists, murderers and other violent offenders. All seven prisoners were rounded up and returned to holding cells.
The prisoners have been named as Lucky Mhungu, Asani Chikwanda and Sarezi Shonhiwa who are all on remand for armed robbery, Rupert Chimanga who is charged with armed robbery and attempted murder as well as the pair of Phillip Chivhurunge and Bigknows Wairesi who are murder suspects.
Matapo was arrested with six other serving and retired middle and lower rank officers from the Zimbabwe National Army (ZNA) over alleged June 2007 plot to topple Mugabe and replace him with the Housing Minister Emerson Mnangagwa.
He was fingered as the ring leader in the alleged plot foiled by security forces.
The group had contacted several western countries to "sound them out" if they would support a coup. Authorities say the plan was to seize control of State House and Mugabe's Borrowdale residence through an air and ground assault, arresting some of the President's loyalists in the process.
The coup was tentatively set for June 15, 2007, the pay day for military and police officers who were increasingly unhappy with their hyperinflation-hit salaries.
Zimbabwe
Read latest news and features from Zimbabwe : business, politics, culture, life & style, entertainment and sports