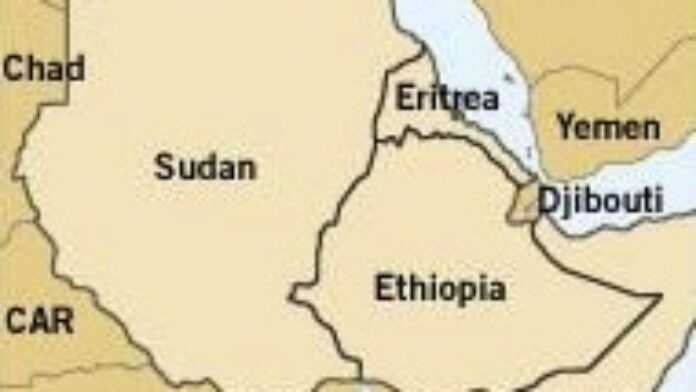 Ethiopia's inherent boarder skirmish with Somalia has extended to the more stable autonomous Somaliland, where13 people; three Ethiopian soldiers and at least 10 civilians have been killed in a checkpoint clash.
According to reports, Ethiopia troops often cross into southern and central Somalia and fight the Islamists controlling the towns. But it is the first time Ethiopian troops have crossed into the 1991 self-declared semi-autonomous region of Somaliland.
Ethiopian soldiers searched several Somaliland trucks and held them for several days to the protest of villagers, residents of Buhoodle district in Somaliland. The Ethiopian forces had crossed from neighbouring Ethiopia into Somaliland about two weeks ago.
"The Ethiopian forces seized some public transports vehicles from the city. Many people were angered and they clashed with the Ethiopian troops, stirring heavy fighting," Buhoodle commissioner Osman Yousef Mohamed was quoted by AFP.
Most people are reported to be fleeing Buhoodle village for fear that the clashes will continue because the Ethiopians haven't left and Buhoodle militias are getting reinforcements.
Despites its independence not being internationally recognised, Somaliland has enjoyed good relations with Ethiopia irrespective of Ethiopia's feud with the rest of Somalia.
Somaliland has always allowed Ethiopia use of the strategic Berbera port, and in return
Ethiopia has always assisted Somaliland with security and protection from Somali. However this mutually beneficial relationship is under threat given the rising tension in the region.
According to eyewitness reports, more Ethiopian troops have moved into Somalland following the recent altercation.
Conversely, Somaliland continues to claim the entire area of the former British Somalia. Since 1991 it has been governed by a secessionist administration as the Republic of Somaliland. The breakaway republic, which declared its independence in May 1991, remains unrecognized by any state or international organization.
Although many foreign governments maintain informal ties with the state, with an increasing number of foreign delegations and embassies having been established in the capital Hargesisa, it does not have full diplomatic recognition.
This comment was emailed by Ahmed
As you know Ethiopia goes to the polls end of May, Somaliland is also holding its own elections on June 26. So the two countries have agreed to boost security and move troops into border towns to check trucks in and out of both countries as well as Somalia.
The village of Buhodle is not under Somaliland control, its controlled by militia and clans who alley themselves with the region of Puntland in Somalia.
So Ethiopia and Somaliland agreed to monitor militia movements in that area, and while checking the trucks the local were angered because the Ethiopian troops seized at least 40 trucks belonging to the locals while letting those from other Somaliland regions through.
Many of the Ethiopian troops are actually Somaliland natives who inhabit in the "Somali region" of Ethiopia.
This wasn't Somaliland vs Ethiopia, it was Somaliland and Ethiopia trying to influence that region and control the dhulbahante clans who claim the Sool region to be part of Puntland. The dhulbahante clan also belongs to the greater Darood family whom the Ogadens also belong to, and who are fighting Ethiopians in the Somali region.
So the two sides teamed up to control them.
Somaliland might use the Ethiopian army to combat the militia in Sool. Right now there is war in near by town called Widhwidh between Somaliland army and local militia with puntland forces.
Updated: Sunday, May 23, 2010
Ethiopia
Read latest news and features from Ethiopia : business, politics, culture, life & style, entertainment and sports