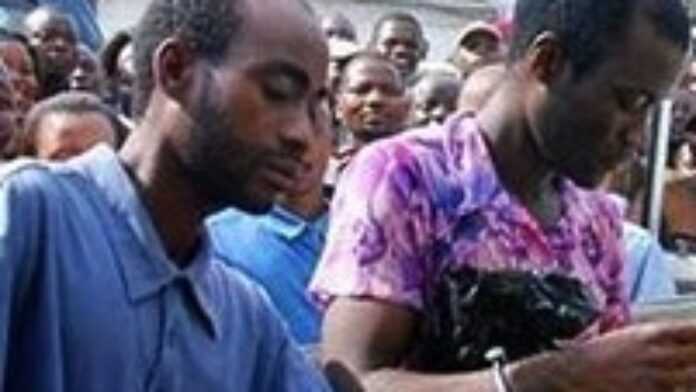 Malawi risks forfeiting its annual aid donations from the United Kingdom and other western partners if it does not reverse the court verdict of 14 years jail term dished out to its first gay couple found guilty last week. The United Kingdom, Norway and the European Union have condemned the verdict.
Foreign donations make up about forty per cent of Malawi's yearly budget and there is possibility, Britain which gives £19 million per year could withdraw its support for the Southern African nation. A recent report indicated that Britain will review its aids to Malawi as pressure is mounting on the British International Development secretary, Andrew Mitchell to begin the £19 million budget withdrawal of its commitment to Lilongwe.
Since last week, international condemnation of the verdict against Tiwonge Chimbalanga and Steven Monjeza has already put pressure on the Malawi government and Gay Rights activists are demanding that the men be released as they have not violated any law.
Peter Tatchell, a Gay rights campaigner has requested that the British foreign minister, William Hague asks Malawi's President, Mutharika, to pardon the men while Alan Duncan, the International Development minister has described the verdict as both "shocking and disturbing".
As the condemnation continues, it appears Lilongwe may not be able to escape a financial effect. Apart from the £19 million donated to meet its budgetary demand by the United Kingdom, reports suggest that Lilongwe may further jeopardise an overall amount of £80 million it receives each year towards development purpose. The Times reported that the Department for International Development, DfID, is considering reducing the proportion of aid that is directly given to Malawi, when they meet this year to review British government aid to the country.
But the British foreign minister, William Hague warns that "Britain must be wary of calls to use aid money as a political weapon" but say "We, along with our international partners, will make urgent representations to the Government of Malawi to review its laws to ensure that it meets its commitments to human rights."
A communiqué from the Norwegian foreign ministry yesterday indicated that "Norway and the EU are concerned about homophobia and discrimination on the grounds of sexual orientation in Malawi. In their declaration, they deplore the conviction, and point out that it is not only a violation of human rights obligations, but also a breach of Malawi's international commitments."
Said Norway's Minister of the Environment and International Development Erik Solheim: "Norway regrets the conviction of the Malawian couple Tiwonge and Steven. It is unacceptable that they are being punished for wanting to live together in a loving relationship".
More people are getting interested in the jailing of the two men and it continues to stir mixed reaction on blogs and websites in Africa and abroad. Writing in the Times, Stan James wrote: Britain should cut of all aid to Malawi, and try to isolate that country and Uganda, etc, from any outside contact with the world. It may sound harsh, but it is what is needed. Maybe foment a revolution there, or at least teach those people that violence, which is what it is against gay people, will cost them dearly. And much of these problems are caused by Americans, anything but Christian missionaries.
Shane Rooney said: "what makes us think we have the right to muck up the internal workings of a different country? Foreign aid is always political, let's not fool ourselves. We should not force our values on a nation which is not yet ready to accept them."
Dave Armstrong who volunteers in Malawi wrote: "I am volunteer for a charity working in Malawi, caring for 5,500 orphans. I am also a gay man. Aid is essential to countries like Malawi. It would be very dangerous to withdraw support. Yes it can be used as a tool to negotiate, but there would be serious ramifications if withdrawn. A longer term issue of how effective this aid is, needs to be addressed, but first we need to secure the release of Steven and Tiwonge on human rights issues."
United Kingdom
Read latest news and features from United Kingdom : business, politics, culture, life & style, entertainment and sports