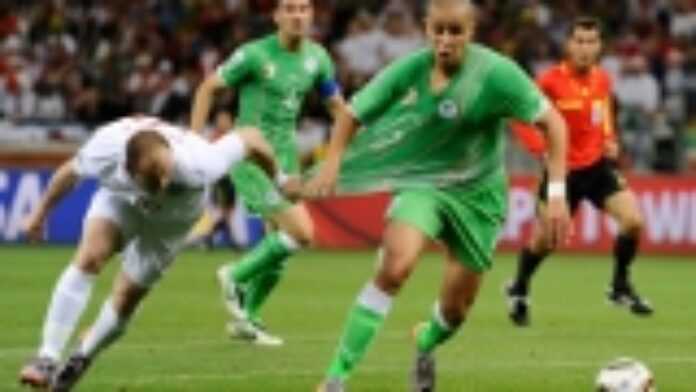 Fabio Capello's men looked short on ideas and creativity as their South African horror show continued in Cape Town. For Algeria, it's all good as they can keep on hopes of progressing to the second round of the 2010 World Cup.
With Princes Harry and William in the stands and David Beckham on the bench, you'd expect England to have been inspired. Unfortunately for the 64 000 fans in the Green Point Stadium of Cape Town, and for us, Fabio Capello's men slumped to a goalless draw with Algeria that has thrown their World Cup ambitions in a stark light.
Lack of first touch and awareness riddled this second game of match day 2 for group C. Too much presure for two teams who HAD to win it to keep afloat their chances of reaching round two ? Nonetheless, there was little to phone home about in the way of football. The only shot to wake up your snoozing grandpa in front of the telly was a week left right footed attempt from Franck Lampard inside the box that sent M'Bohli to the floor.
Outgunned by a weak Algerian team, the Three Lions, unimaginative and nervy, never really troubled the Desert Foxes. The Europeans bagged their tenth goalless draw in the World Cup history while Algeria manage a savoury first point in the 2010 African edition. A point that keeps the Algerian fans hoping for an unexpected second round appearance. But they'll have to beat USA on Wednesday.
After the game, Fabio Capello was clearly disappointed. "We played a good team, but we played too slowly. We are not in a good moment. It's probably the pressure, perhaps, I think so. The players play well during the training. I don't know why it is. I want to see the spirit of the team and I didn't see it this evening. I said to the players it wasn't a good performance, but we are really lucky because we can play another game. I'm always confident in my team", he said. They'll have to get their football back to win against a surprising Slovenia.
2010 World Cup
South Africa's preparation to host the games on African soil for the first time but also individual African countries' determination to take part in the historic event. Five African countries - Cameroon, Nigeria, Algeria, South Africa and Ghana - are selected to join twenty seven teams from around the world to battle it out on the football pitch for the gold trophy. One by one, the African teams are eliminated, but Africans will not be bogged down as they rally behind their compatriots on the wings of the vuvuzela, a far cry from the near diplomatic row between Algeria and Egypt during the qualifiers. Ghana are the last team to leave but not before African unity becomes reality...