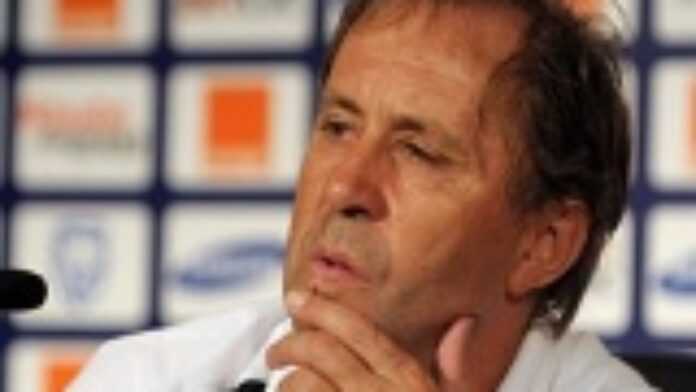 The Black Stars of Ghana could be regarded as Africa's World Cup hopefuls after being the only team from the continent to post a victory –so far- but coach Milovan Rajevac is refusing to be overwhelmed.
Ghana are just a game away to make it to the last 16 but they have to get past Australia. A victory against Australia on Saturday would see a repeat of four year ago when Ghana were the sole African team to make it to the knock-out stages.
Said Rajecvac, "It's very pleasant to have that feeling but we should not allow it to bring added pressure. Each game brings new challenges and we must prove again how good we are but we want to play well and have a good result so we don't let the continent down."
Rajevac feels the dynamics of group has changed completely after Serbia beat Germany 1-0 on Friday afternoon to go level on points with both Ghana and the Germans.
Rajevac said: "Serbia won and all of a sudden the whole group is difficult. We will play for a positive result. We should take advantage of this first win and it should motivate us to get the right result and reach the next stage."
The 55-year-old says the Black Stars should not underestimate the Aussies on Saturday after their massive 4-0 demolition by Germany.
"Germany played well and they are the favourites from our group. They played an excellent match. But Australia had problems. They lost one man and it was a different situation for them," Rajevac noted.
"Australia will come out fighting to make amends and that is expected. They are not out of contention" he said.
After collecting three vital points, Rajevac usually a man of few words, says part of his job now is to keep the team grounded and focused on the remaining matches.
"The most important thing after the win is to stay grounded, show respect, concentrate and prepare well for the next match.
"We have to be psychologically prepared and ready," Rajevac said.
When Ghana was drawn with Serbia, Rajevac's native country, many in Ghana questioned his loyalty, but he repeatedly brushed aside any suspicion of divided loyalty.
But he had good wishes for his country.
"We'll do our best to win against Australia and then think about the Germans. But I wish Serbia can win their next two matches," said Rajevac.
2010 World Cup
South Africa's preparation to host the games on African soil for the first time but also individual African countries' determination to take part in the historic event. Five African countries - Cameroon, Nigeria, Algeria, South Africa and Ghana - are selected to join twenty seven teams from around the world to battle it out on the football pitch for the gold trophy. One by one, the African teams are eliminated, but Africans will not be bogged down as they rally behind their compatriots on the wings of the vuvuzela, a far cry from the near diplomatic row between Algeria and Egypt during the qualifiers. Ghana are the last team to leave but not before African unity becomes reality...