I was lucky to attend the 2010 World Cup final in South Africa. Even though the Bafana Bafana were no longer competing, the enthusiasm and good spirit shown by South Africans was uncommon.
Despite the biting cold working its way to the marrow, South Africans couldn't care less as they stood at open air venues to watch the World Cup final. The rainbow nation's citizens, singing, cheering, blowing their colorful vuvuzelas, have formed a united front. The sense of oneness behind this costly national effort cannot be missed.
The soccer World Cup, like the rugby World Cup, has indeed united the country on every front. What was once the sport of Black people is now embraced by Whites as well. And blacks welcome them with open arms.
But observing the jubilant crowds as an outsider, I wondered whether this generosity and good spirit would linger after the World Cup was over. Was the rainbow nation's colors blending itself into one? No way such intensity can be dismissed as ephemeral!
Talking to several people of different skin shades and social classes, notwithstanding the general hang-over of the morning after, it is obvious that everybody wants more of this drug. This success has united South Africa to the core and the party has only just begun! As if South Africans needed sporting events to keep Madiba's dream of a rainbow nation on track.
South Africans seem to have caught another fever only an iota of a second after the end of an intense World Cup fever. The whole country is already dreaming of the 2020 Olympics with the media calling for the people to show their South African pride by flying their flag every Friday.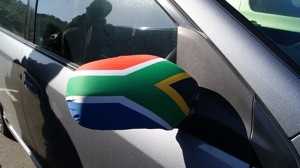 Indeed, after apartheid, South Africans have had a great number of problems, but they are learning to overcome the most important one : accepting to live together. It took them 20 years, but in great part thanks sports, this unity is gradually picking up speed.
The country is getting richer, efficient infrastructures have been built, beautiful airports and American-style malls can now found in most cities. A real middle class is emerging, and all are benefiting from this, including the poor majority. Nonetheless, most of the people seen driving in expensive cars are whites.
Most black people cannot afford to ride on the new fancy city buses because they just can't afford the 8 rand ride (0,82 euros). The standard of living is just too high for most people, except for food, prices are nearly as high as in Europe.
Nelson Madiba Mandela, the world's greatest living personality, turned 92 yesterday. This enigmatic and uniting force won't be here forever to hold the country together. What if, just what if, one day, some leader decided to thrive on denouncing these inequalities? What if the poor, one day, decided that they had had enough?
South Africa is on the path to a prosperous future, but under one condition: that no one be left behind.
The Other Afrik
The Other Afrik is an alternative and multi-faceted information source from Afrik-News' panel of experts. Contributions include : opinions, reviews, essays, satires, research, culture and entertainment news, interviews, news, information, info, opinion, africa, african-american, europe, united states, international, caribbean, america, middle east, black, France, U.K.