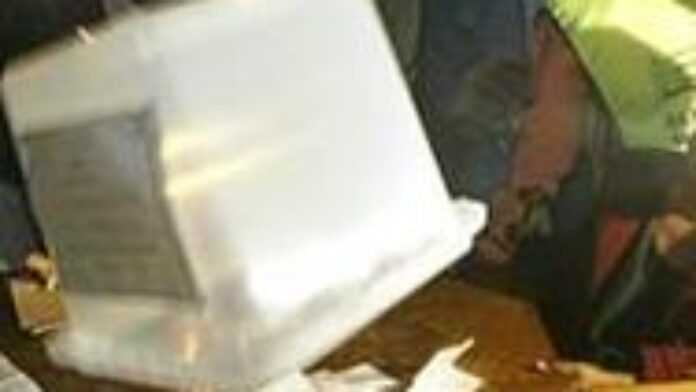 An election monitoring group in Zimbabwe has called on authorities to scrap controversial postal votes for police and instead introduce a new special voting system where law enforcement agents cast their ballots two days before polling day.
Currently, members police force and secret service cast their votes 30
days before the official polling day, but Zimbabwe Electoral Support Network (ZESN) says that this arrangement puts into question the credibility of the system. It contended as currently constituted, the postal voting system is free from observer scrutiny and is shrouded in secrecy.
Said ZENS at the weekend, "The application process has not been transparent and this lack of transparency has extended to the actual voting on issues that relate to the number of people in the security sector that will be eligible for postal voting, the number of ballot papers distributed, the actual voting process and counting of votes".
Under the Electoral Act, police officers deployed on duty outside their voting constituencies as well as civil servants on duty outside the country are allowed to vote by postal ballot.
There were about 8 000 postal voters in the last election in 2008 amid
allegations that the police officers were ordered to vote for President Robert Mugabe and his Zanu (PF) party.
Credibility
And while allegations indicate that all the postal voters were required to show their papers to their seniors before casting the ballot, ZESN has suggested that these alleged irregularities warranted that the Zimbabwe
Electoral Commission (ZEC) reviews the postal voting system with a
view to replacing it with another arrangement open to scrutiny by observers.
"ZESN recommends special voting as the case in most countries and not
postal voting for the police. Voting that takes place two days before the election and which is also open to ZEC officials, the body that is mandated to run elections in Zimbabwe," it said.
In the past postal voting took place before the accreditation of observers that resulted in an opaque process that resulted in speculation, criticism
and controversy, thereby damaging the credibility of the country's elections.
"We recommend that this process must be transparent and open to observation as well by both domestic and international observers and
political parties," ZESN added.
Zimbabwe's coalition partners last month agreed to amend the electoral
law as part of measures meant to avoid disputes over the conduct of future polls.
However, Justice Minister Patrick Chinamasa last week said Zimbabwe's
cabinet had agreed to amendments to sections of the Electoral Law dealing
with the release of results for presidential polls as well as the role of police officers at polling stations.
Under the proposed amendments, ZEC would be required to announce
results of presidential elections within five days following the day
of voting.
Rigging
This follows allegations of rigging levelled against the ZEC after it took nearly two months to release the results of the 2008 presidential elections in which former opposition leader Morgan Tsvangirai narrowly beat Mugabe.
Tsvangirai, now Zimbabwe's Prime Minister, later withdrew from the second round poll after alleging that his supporters were targeted in a violence
campaign by members of Mugabe's ZANU PF party and the army.
Mugabe won the run-off poll unopposed but later bowed to regional pressure to form a coalition government with Tsvangirai.
The proposed amendments would also bar police officers from "taking part or interfering with the electoral process beyond maintaining law and order." This also comes after Police officers were accused of abusing their power to help disabled or illiterate voters to cast their ballots in the 2008 poll.
The proposed amendments would also allow ZEC to warn election candidates, election agents or parties implicated in acts of political violence and to set up special courts to try such cases.
Zimbabwe
Read latest news and features from Zimbabwe : business, politics, culture, life & style, entertainment and sports