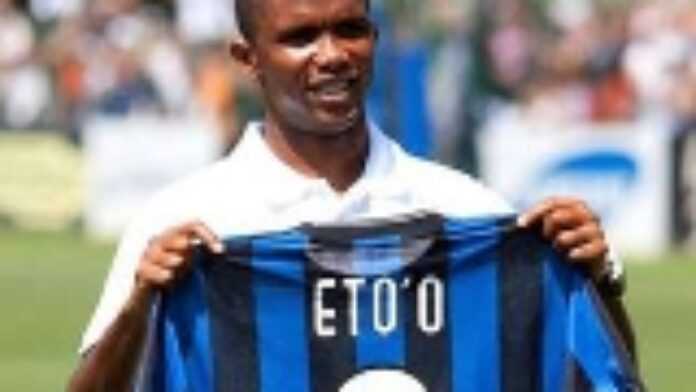 Samuel Eto'o's decision to transfer from FC Barcelona to Inter Milan in 2009 cannot be underestimated. The Cameroonian striker is, according to a list published by the Italian media, the second highest paid footballer of the Calcio, ahead of his African counterparts.
It is no secret that footballers are pampered with ludicrous sums of money. And it is equally not surprising that the Gazzetta dello Sport, after releasing the Serie A's best paid footballer of the year rankings, states that: "Italian clubs continue to live beyond their means."
The fact remains that African players are doing well. Samuel Eto'o, Inter Milan's Cameroonian striker, is the second best paid footballer in the Italian league.
With 8 million euros per year, the Indomitable Lions' captain is hot on the heels of his predecessor at Inter and successor at Barca, Zlatan Ibrahimovic.
The Serie A best paid footballer of the year's photo finish features Zlatan Ibrahimovic, who signed a 9 million euro per year contract with AC Milan, and Ronaldinho, another Rossoneri, who comes third with his 7.5 million euro per year contract.
The others
Far behind, are the Algerians: Abdelkader Ghezzal (Sienna), Mourad Meghni (Lazio) and Hassan Yebda (Napoli) who earn € 0.6 million, € 0.4 million and € 0.7 million per year.
The Algerians fare worse than World Cup quarter-finalists, Ghana. Sulley Muntari (Inter) peaks at 2 million euros while Kevin Prince Boateng (AC Milan) takes 1 million euros home per year.
Former captain of the Black Stars, Stephen Appiah (Cesena) earns 0.15 million euros.
Meanwhile, Tunisian star, Yohann Benalouane who signed for 0.23 million euros with Cesena, is far behind Mohamed Sissoko of Mali's 2.2 million annual contract with Juventus.
In total, with all clubs combined, the Italian Serie A players take home nearly 1 billion euros in annual wages. A ludicrous financial obligation that is costing the already indebted Italian clubs not only their arms, but their much needed legs as well.
Italy
Read latest news and features from Italy : business, politics, culture, life & style, entertainment and sports