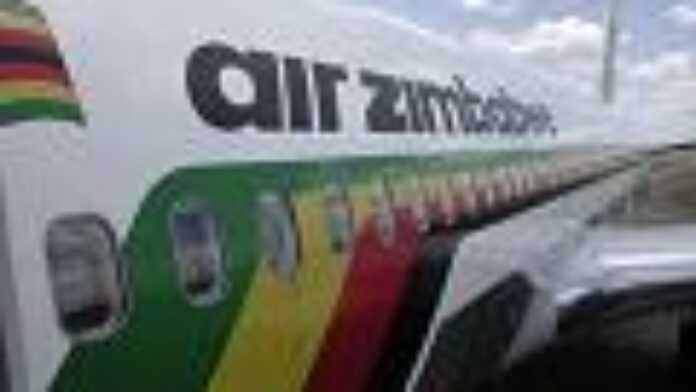 Zimbabwe's struggling airline, Air Zimbabwe operations have grounded to a halt after 60 pilots embarked on an indefinite work stoppage Wednesday demanding payment of their allowances running into millions of US dollars.
It is understood that the basic salary for Air Zimbabwe pilots is US$2 509, but they also get up to US$10 000 in monthly allowances before tax.
By Thursday mid morning, the pilots where still on strike.
There was chaos at the Harare International Airport Wednesday as two planes were abandoned on the runway as disgruntled passengers milled around the airport, while pilots gathered at Air Zimbabwe's Harare International Airport headquarters car park.
The strike paralysed operations on the airline's lucrative Harare-Johannesburg, Harare- London, and Harare-Vic Falls (via Bulawayo) routes.
The Harare-Lusaka midday flight was also affected.
Two more Air Zimbabwe evening flights (Harare-Johannesburg and Harare-Bulawayo) were also likely to be affected by the industrial action if no breakthrough was reached.
Air Zimbabwe flies internally as well as to several regional destinations. It is also the only airline to operate direct flights from the capital, Harare to London.
Its most lucrative route is to the United Kingdom's Gatwick Airport as Air Zimbabwe's flights are cheaper than other airlines which all now fly to London via Johannesburg.
Its far East route is not as popular as President Robert Mugabe would have liked, according to regular passengers on the route to Shanghai via Singapore and Dubai.
Job cuts
The work stoppage piled up pressure for the national airline, which is currently embroiled in a legal dispute over its move last year to shed over 500 jobs in a bid to cut costs.
Air Zimbabwe is reported to have stopped paying the pilots' allowances in February last year in a bid to reduce costs.
The airline's chief executive officer Peter Chikumba confirmed the industrial action saying management was in a crisis meeting with the board to resolve the impasse.
Workers at the airport say pilots reported for duty Wednesday morning, took their planes onto the runway only to abandon them demanding payment of their allowances first before take-off.
"It all started on Monday when one of the pilots who had failed to pay school fees for his children refused to carry out his duties. He (pilot) said the company owed him a lot of money in unsettled allowances and demanded payment first," a source close to proceedings said.
"It appears the pilots debated the matter (non-payment of allowances) and resolved to down tools. They reported for duty as early as 5am today (Wednesday) but would not carry out their duties," the source added.
"Management offered the pilots US$1 000 each but they would not accept it. Planes are still grounded," said another source.
Air Zimbabwe board chairman Jonathan Kadzura on Wednesday night appeared on national television saying the demands where "outrageous".
"Air Zimbabwe, as an employer, cannot afford to pay the salaries being demanded by the pilots. They (pilots) are getting not less than US$1 200 a month and we accrue the difference.
"The amounts they are receiving in this economy are outrageous. They are failing to understand that there are people who are earning less than US$200 like civil servants in this country. This is a time to give and the time to receive will come," he said.
Zimbabwe
Read latest news and features from Zimbabwe : business, politics, culture, life & style, entertainment and sports