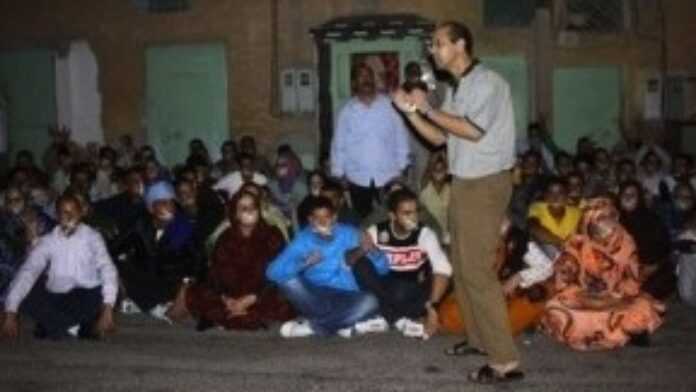 "They tore off my clothes leaving me naked in front of their ferocious eyes," twenty year-old Nguia El Haouasi tells me describing an ordeal she suffered last year at the hands of Moroccan police. As a campaigner for self-determination of her native Western Sahara she has been arrested many times. On this occasion she was released after just 24 hours but not before she had been beaten and tortured.
I met Nguia, a delicate young woman, at an international conference in Algiers last weekend. At the end of the conference whilst other delegates were flying home in comfort, Nguia along with 72 other human rights defenders from Western Sahara would have to run the gauntlet of returning to their home in Layoune where they knew the Moroccan police would be waiting. The human rights defenders decided to stagger their travel, flying in three separate groups accompanied by international observers and journalists.
The first group arrived on Monday and despite a large and intimidating police presence, they were allowed to pass unmolested. The second group were not so fortunate. On Wednesday evening as the 28 activists came out of the airport terminal the police closed in. "They started shoving, punching and kicking indiscriminately" said one of the observers Carmelo Ramirez, president of the Federation of Institutions in solidarity with the Sahara (FEDISSAH). "One young activist, Mohamed Mayara, was seriously wounded by a blow to the head." According to Ramirez, Mayara "chose not to go to hospital out of fear" and was instead treated in an ambulance where he received several stitches to his head and lip. Spanish actor Guillermo Toledo who travelled with the human rights defenders from Algiers was attempting to record the assaults on his mobile phone when he was also targeted. "Several police men jumped on me, pulling me down, kicking and punching me." He suffered a fractured finger.
The third group arrived on Thursday evening and managed to travel to the house where Saharawi activists had gathered to celebrate their return. Around 100 police had also turned up and surrounded the house. Holding hands and with their mouths taped-up 94 activists held a sit-down protest in the street in front of the bristling police. According to Spanish journalist Laura Gallego who was there, the police were "plunged into confusion" and stood by, uncertain how to react. The protest was heralded by Saharawi human rights activist, Asfari Ennaama, as an important victory. "Our silence said so much. Our silence was an eloquent denouncation of the repression to which we subjected, our lack of freedom and the violation of our rights."
This Friday marks the first anniversary of the arrest of several prominent human rights defenders who were arrested in Casablanca airport after returning from a visit to the refugee camps in Algeria where around 165,000 Saharawi have lived in exile for over 35 years. Three of the activists – Brahim Dahane, president of ASVDH, Ali Salem Tamek, Vice-President of CODESA, Ahmed Naciri vice president Samara Saharawi Human Rights Committee – are still imprisoned in Sale jail, Rabat awaiting trial by a military tribunal. If found guilty of 'treason' they could face the death sentence. Meanwhile over 20 expert witnesses are expected to give testimony of human rights abuses in occupied Western Sahara to the United Nations Decolonisation Committee in New York next week. Campaigners will also gather there to call for the United Nations to immediately enforce Security Council resolutions requiring a referendum on self-determination in Western Sahara.
At the conference in Algiers the human rights defenders had been in buoyant mood. After having given their testimony – which included many horrific stories of torture, rape and sodomy – they mingled easily with the delegates who represented over twenty countries. Forty-year old Ibrahim Brahim Saber, an activist who has been in and out of prison since the age of sixteen was well aware of the risks he faced in returning home to Layoune. "I have been beaten and tortured many times and in many ways" he said. "But none of us have chosen this life of struggle. We were born into it."
The Other Afrik
The Other Afrik is an alternative and multi-faceted information source from Afrik-News' panel of experts. Contributions include : opinions, reviews, essays, satires, research, culture and entertainment news, interviews, news, information, info, opinion, africa, african-american, europe, united states, international, caribbean, america, middle east, black, France, U.K.