African literature is generally ignored by the Nobel committee. Since 1901, only four writers from the continent have been rewarded, two of whom are entirely of European descent. This year, Africa has again bitten the dust after many had tipped the Swedish Academy to give the award to one of four ingenious African authors: Chinua Achebe from Nigeria, Nuruddin Farah from Somalia, Ngugi wa Thiong'o from Kenya, and Assia Djebbar from Algeria. Nevertheless, the Swedish Academy has failed to live up to its Eurocentric reputation by choosing Peruvian writer Mario Vargas Llosa as winner of the 2010 Nobel Prize in literature.
Following the Swedish Academy's naming of Peruvian writer Mario Vargas Llosa as winner of the 2010 Nobel Prize in literature speculation over Africa being the least considered continent by the Nobel committee continues to be expressed. Since the introduction of the prestigious literary award in 1901, only four African writers have been recognised: two White South Africans, Nadine Gordimer and John Maxwell Coetzee, respectively in 1991 and 2003, Nigerian playwright Wole Soyinka in 1986, and Egyptian writer Naguib Mahfouz in 1988. Lovers of Africa and African literature had hoped to see this injustice rectified in the announcement of the 2010 Nobel laureate.
But with a vast majority of its winners coming from Europe or being of European descent, the Academy has more often than not been criticised as Eurocentric. Indeed, less than 10, out of 103 literature laureates so far, are not European or of purely European descent: 1913 winner Rabindranath Tagore was Indian, while Chile's Gabriela Mistral Chile who won in 1945 was of mixed Amerindian and European ancestry, and so was 1967 winner Miguel Ángel Asturias from Guatemala. Japanese Kawabata Yasunari's win in 1968 marked the second time a non-European person took the award. The world had to wait for almost two decades for the next completely non-European winner. Wole Soyinka from Nigeria's 1986 win marked the first Nobel Literature award to go to a Black person, followed by Naguib Mahfouz from Egypt in 1988 and in 2000 Gao Xingjian, a Chinese-born French. 2010 Peruvian winner, Mario Vargas Llosa Peru is believed to be of mixed ancestry, including European.
Africa's unfortunate four
But without a shadow of doubt, the four African writers (Chinua Achebe from Nigeria, Nuruddin Farah from Somalia, Ngugi wa Thiong'o from Kenya, and Assia Djebbar from Algeria) whose names have insistently come up for the Nobel committee's consideration will come up again next year.
English-speaking Somali writer Nuruddin Farah, a highly respected Horn of Africa writer whose work is considered as one of the most important African literary works in English had been tipped to win the prize. Nuruddin Farah was born in 1945 in Baidoa, in the southern part of Somalia, a country that has been torn by war since the overthrow of military ruler Mohammed Siad Barre in 1991, he published his first novel, From a Crooked Rib, in 1970, only a year after the rise of General Siad Barre, whose dictatorial tendencies served as a backdrop for his first trilogy, Sweet and Sour Milk (1979), Sardines (1981) and Close Sesame (1983).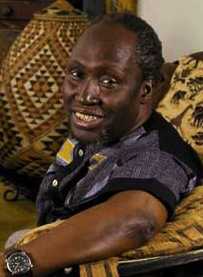 French literary critic Pierre Assouline's strong conviction that Kenya's Ngugi wa Thiong'o would grab the Nobel Prize did not materialise. On his blog La République des livres, Pierre Assouline backed his fellow critic, Michael Orthofer whose prediction last year that Herta Müller would win had been correct. Ngugi wa Thiong'o was born on January 5, 1938. He writes in both English and Kikuyu and is professor and director of the International Center for Writing and Translation at the University of California. A dominant figure in literature since former Kenyan president Arap Moi's rule, he was quick to adopt radical positions on resistance to repression in neo-colonial Kenya.
Nigerian writer Chinua Achebe is a force to reckon with in African literature. Born in November 16, 1930, he is a novelist and a poet whose work embodies a profound meditation on colonialism. His writings depict African heroes at the crossroads of the somewhat unjust Western world, and Africans who find their traditional values discredited, thus breaking down their defences in today's world. "I would be quite satisfied if my novels (especially the ones I set in the past) did no more than teach my readers that their past–with all its imperfections–was not one long night of savagery from which the first Europeans acting on God's behalf delivered them. Perhaps what I write is applied art as distinct from pure. But who cares? Art is important, but so is education of the kind I have in mind" he once said, commenting on his work.
Algerian French-speaking writer Assia Djebbar, who in the recent years has been a regular among the award's favorites had been widely tipped to win this year. Endorsing her strong chances of winning the Algerian daily El-Watan wrote: "Who better than a woman poet and a writer to illustrate all this literary and linguistic generosity so inherent to the African soul". Assia Djebar has been a member of the prestigious French Academy since 2005. Born in June 30, 1936 at Cherchell She is the author of several plays, poetry and novels, including 'La Femme sans sépulture ' and 'Nulle part dans la maison de mon père'. Her work has been recognised internationally and won her many literarture awards.
Raising expectations over an eventual African win, the 2010 edition of the annual Book Fair in Gothenburg, Sweden, which serves as a pseudo-index for tipsters to pick their favorite writers, had been devoted to Africa. And though Africa has bitten the dust again this year, many observers hope that the Swedish Academy would continue to extend its selection criteria to include more diversity and break away from its traditional European and North American dominance over the Nobel Literature Prize.

South africa
Read latest news and features from South africa : business, politics, culture, life & style, entertainment and sports