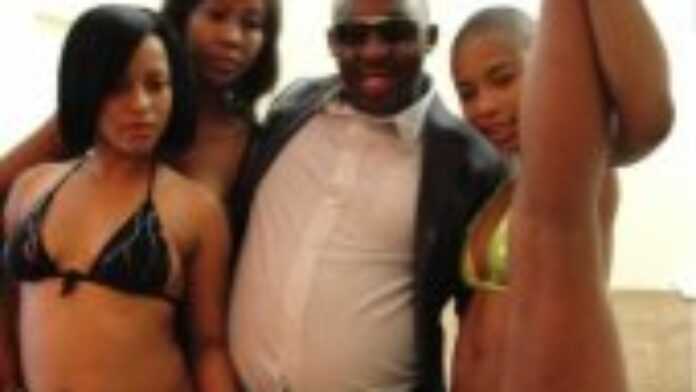 Armed with condoms and HIV prevention tools, Tau Morena, a pornographic film producer from South Africa, has decided to take his battle against AIDS to another level. Mapona (naked in SeSotho) is not only South Africa's first porn film but also features a one hundred per cent Black cast, and it promotes safe sex. The film was released on September 30.
Mapona, a new film that has become the talk town and can only be obtained through mail order, is an unusual blockbuster in South Africa. Mapona, which means Naked in SeSotho, is an hour long all-South African pornographic film that features an exclusive Black cast.
The decision to produce Mapona was as a result of the many queries Tau Morena, the boss of Sondeza (South African version of Youporn), got over the lack of locally made porn films featuring an all Black cast. "I was happy to see young black women… In South Africa, you know, porn has been for whites," says John (not his real name).
No condom, no porn
Before shooting the film, the amateur filmmaker had one requirement: That all his actors be tested. A necessity that is increasingly being neglected by the American sex industry. October 13, Vivid Entertainment and Wicked Pictures, two Los Angeles based businesses decided to suspend their activities after one of their actors was infected with HIV.
And this calls for caution in a country that has been deeply affected by the HIV scourge. Interestingly, compulsory HIV testing and use of condoms did not deter the South African actors. In fact, fifty people had initially responded to Tau Morena's announcement despite the conditions.
The producer of the first made in South Africa porn film does not want his actors to be interviewed by the media. But he says that his actors "are all amateurs. They have jobs and live normal lives".
A conservative country
Both the South African government and people have been particularly hostile to the pornographic film industry. According to recent polls, a majority of South Africans are opposed to pornography. This same sentiment is felt within government circles.
Seeking a ban on digitally distributed X-rated material, the country's Home Affairs Minister, Malusi Gigaba, has proposed a bill that seeks to prohibit Internet providers and mobile phone operators from allowing any form of pornography on their networks.
Confronted with the "conservative" realities of everyday life in South Africa, Tau Morena agrees that sex is a taboo subject in his country. He argues that although the society knows that men and animals indulge in sexual activities, no one talks about it. Instead, it is the biological and anatomical aspect of sex that are addressed.
Campaigns
Tau Morena is very active on social networks like Facebook and Twitter, where he deals with the subject of sex and taboo as well as the ineffective HIV campaigns, despite the numerous initiatives that exist in the Southern African country.
According to him, notwithstanding the many campaigns that deal with HIV prevention and modes of transmission, the messages go unnoticed whilst the prevalence rate remains high. On the other hand, this film, he says, informs on the necessity of wearing a condom, and also shows that it can be fun and comfortable.
The budding producer is also a serious sex education advocate. And his move has been welcomed by organizations dedicated to the fight against HIV/AIDS like HIV South Africa.
Patti Kokkini, a member of HIV South Africa, believes that Tau Morena's initiative is a good idea, as many in the pornographic industry fail to see the risks they are confronted with.
With about 5.7 million people living with HIV/AIDS, South Africa has the highest HIV rate in the world.
South africa
Read latest news and features from South africa : business, politics, culture, life & style, entertainment and sports