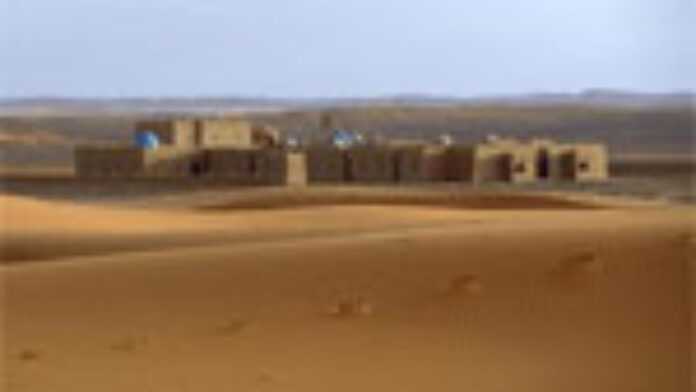 At six am on Monday 8th November, Moroccan armed military forces began a violent attack on one of the largest of Western Sahara's three 'independence camps', comprising a reported 8000 tents and 30,000 Sahrawi residents.
This occurred on the first day of fresh UN-led negotiations in New York, convened by the UN's special envoy Christopher Ross, and raises new questions about Morocco's true intentions at the peace-talks table. What followed next has horrified the international media, campaigners and analyst observers, and exploded into passionate resistance by Sahrawi youth defensively trying to fight off Moroccan military strength in both the Gdeim Izik camp and in street clashes in Layoune town.
Set up during the 2nd week of October, the peaceful protest camps comprised both make-shift tents and traditional desert-nomad camelhair tents. Residents had little food and water during their four-week protest, as Moroccan military forces had encircled the camps in an act of deprivation, surveillance and containment.
Photographs and videos taken by Sahrawi on the ground and by Moroccan military forces are widely available on the internet. One video shows the menacing lights of Moroccan military vehicles' ground approach on the Gdeim Izik camp in the dawn twilight, triggering fear and confusion amongst the awaking camp residents. Other aerial imagery taken by Moroccan helicopters shows the violent dispersal of its residents and destruction of the camp using hot water canons, live ammunition, and gasoline to set fire to the camp.
The Sahrawi say they started and intended these traditional encampments as a peaceful protest against the acute social and economic conditions under Moroccan territorial occupation. A catch twenty-two: an already politically illegal occupation that explicitly creates social and economic deterioration for the indigenous population. Morocco's violent aggression on the peaceful protest camps is an act of war on soil that it has illegally occupied since 1975, and has heightened Sahrawi disappointment of a 19 year ceasefire in which the United Nations has failed to apply international law to Morocco's territorial aggression.
The Moroccan state media organizations have been slickly pumping out distorted news reports in its hysterical attempt to rewrite a new Moroccan history on Sahrawi soil. This absurd propaganda production repeatedly projects the Sahrawi as 'inciting violence' and 'threatening internal state security'. The reality is that Sahrawi protests are reactions to Morocco's constant and deliberate provocation and suppression. Sahrawi protests represent everything that the Sahrawi people of Western Sahara are defending – independence from illegal Moroccan territorial invasion, an end to Morocco's human rights violations, and a return to homeland with full national sovereignty.
It is time to refocus media attention and political analysis to the hottest regional conflict that impacts broader geopolitics: to understand why the Sahrawi are fighting for full independence, why the United Nations has failed to uphold the basic principles of international law, and how Morocco is getting away with illegally occupying a stolen land. [[Thomas M. Franck. 'The Stealing of the Sahara'. 1976. American Society of International Law
]]
To underscore the most fundamental issue on Morocco's stealing of the Western Sahara, the International Court of Justice (ICJ) issued an advisory opinion in 1975 which, days later, Morocco chose to ignore and instead conduct an invasion march into the country. The ICJ's documentation shines an extraordinary light on the original international legal opinions that categorically rejected Morocco's bizarre territorial ambitions on the Western Sahara (Morocco was simultaneously claiming the north of Mauritania, a large part of Algeria, and the north-western section of Mali). [[International Court of Justice. Reports of Judgements, Advisory Opinions and Orders: Western Sahara. Advisory Opinion of 16 October 1975. (See also related Oral Reports, Written Statements, Press Releases, and Orders).]]
Morocco's invasion and current illegal occupation of Western Sahara is a transgression of international law, human rights, and territorial sovereignty. I wish to spotlight the following analytically critical passages by political scientist, Jacob Mundy (my emphases). [[Mundy, J. 'The Question of Sovereignty in the Western Sahara Conflict'. June 2008. Paper presented at the International Conference of the Jurists for Western Sahara. Canary Island]]
'The purpose of a self-determination referendum in Western Sahara is not to decide between competing sovereignties, whether Moroccan or Sahrawi, but to poll the Sahrawis as to whether or not they wish to retain, modify or divest their sovereignty. We need to stop talking about self-determination as an act that constitutes sovereignty in Western Sahara. Sovereignty is already constituted in Western Sahara. As the ICJ said, Western Sahara has never been terra nullius.'
'Traditionally, we have tended to focus on the issue of self-determination. However,…we would be doing ourselves a favour by re-framing our discussions around the issues of aggression, occupation and the denial of national sovereignty, not just self-determination.'
'Morocco's invasion, occupation and colonization of Western Sahara is the most egregious attempt by any country to expand its territory by force since the beginning of World War Two.'
Western Sahara is not just the 'last colony of Africa' – it is the first country to be newly re-colonised since the end of the last colonial era. It is also time to reframe our analyses to the behind-the-scenes influence and buttressing of Morocco's territorial violation, by the US and France. The Western Sahara conflict is a 'hot' geopolitical story comprising competing superpower dynamics, crucial natural resources, strategic economic interests, and regional political security. [[Western Sahara Resource Watch is one the most important organisations researching and reporting on the illegal exploitation of Western Sahara's resources under Moroccan occupation: https://wsrw.org/fr.
]]
Pressure needs to be put on US and France to apply the basic tenets of the modern political system that they so repeatedly, publicly avow when it suits them. For without the US and France, Morocco would never have been able to sustain, over 35 years, such a blatant violation of a neighbouring nation-state's inviolable sanctity of sovereignty.
Konstantina Isidoros is a doctoral researcher in Social Anthropology specializing on the Sahara desert, University of Oxford. The views expressed in this paper are those of the author. This document is an original transcript and copyrighted property of the author. Changes to this original transcript are not permitted without prior approval from the author.
Western Sahara
Read latest news and features from Western Sahara : business, politics, culture, life & style, entertainment and sports