African American singer-songwriter, actress, Alicia Keys, who gave birth to her first son, Egypt, last month, posed for the November 2010 edition of Vogue Italy while she was pregnant. Depicted as a sexy, ingenuous and feline rocker in the Vogue Italy photos, the multiple-grammy award winner proves that she has what it takes to morph into a real "chameleon".
"I like to transform myself like a chameleon" says the famous African American artist. At only 29 years when the photos were taken, Alicia Keys has sold millions of albums worldwide.
And as her successful career, which spans the music and film industry as well as her charitable foundation, hits new highs, another chapter, besides her marriage to Kasseem Dean, a.k.a. Swizz Beatz, has opened in her life: Motherhood.
To say that a very pregnant Ms Keys had fun posing in front of Italian photographer Michelangelo Battista's camera would be an understatement, to say the least. "The photos showing me pregnant seemed brave and strong to me, just how I feel at this time" Mrs Alicia Keys-Dean confirms.
She also admits to have stopped going everywhere with troops of bodyguards, because "if you act like a normal person, people treat you accordingly". But this is not to say that just anyone can have free access to her personal life.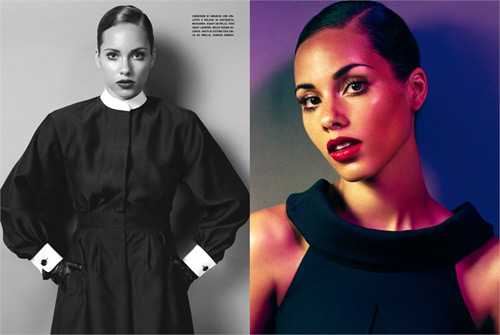 The magazine confirms that Ms Keys has been firm in her attempts to keep "media intrusion into her private life" at bay.
Despite her misgivings in what concerns mainly the tabloid media, the graceful and soulful singer did not hesitate to share some of her most privately feline poses. A for-your-eyes-only carnaval of soulful snapshots.
About soul, she spiritualizes: "Soul for me is a nirvana, a state of grace". Alicia's idols are all "soul" regardless of the music they play.
Indeed, Alicia Keys' historical (1) collaboration with Jack White from White Stripes to perform the theme song "Another Way To Die" for the 22nd James Bond movie "Quantum of Solace" bears testimony to her "chameleon" nature.
For the full interview from Vogue Italy
The Other Afrik
The Other Afrik is an alternative and multi-faceted information source from Afrik-News' panel of experts. Contributions include : opinions, reviews, essays, satires, research, culture and entertainment news, interviews, news, information, info, opinion, africa, african-american, europe, united states, international, caribbean, america, middle east, black, France, U.K.