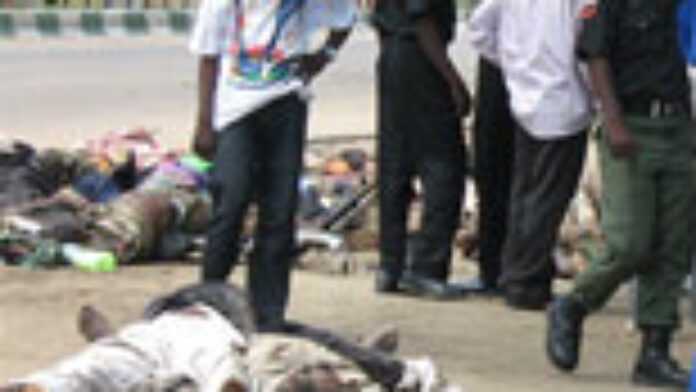 A Nigerian group known as the Movement for Democratic Sustainability (MDS), has called on the Nigerian government to arrest a former vice president and a former military leader for the recent spate of violence across the country.
John Campbell, a former US ambassador to Nigeria who now is a fellow at the Council on Foreign Relations, has argued that there is anecdotal evidence that rival candidates are appealing for support on the basis of shared ethnic and religious identities, which is likely to foment tension.
MDS later claimed that former vice president and a presidential aspirant under the People's Democratic Party (PDP), Atiku Abubakar, and former military leader Ibrahim Badamosi Babangida are the masterminds of the holiday-season violence in Nigeria.
"The Christmas Eve bombing in Jos is exactly 10 days after Atiku and Babangida issued threats of violence in Abuja. The bombing in Abuja is exactly 17 days after. Since the statements by these two supposed statesmen, it has been Boko Haram, Jos and bombings. This is more than mere coincidence. These two people need to explain to the Federal Government what they know and what they don't know," a statement by MDS publicity secretary, Afam Iheanacho, read.
Another Nigerian group known as Media for Ethnic Equality (MEE) said the masterminds of the bombings have failed if their goal was "to create fear or ignite chaos across the country."
MEE's publicity secretary, Iyiola Johnson, said: "Anybody thinking Nigerians will go to war against themselves at this point of our national history is completely miscalculating. When you study the timing of these bombings carefully, you will realize it is all politics. Jos's bombing came on Christmas Eve, and Abuja followed on New Year's Eve."
However, Mr. Babangida's camp has denied any involvement with the ethno-religious violence. In a statement released by the former military leader, his spokesperson, Kassim Afegbua, said:
"We are utterly surprised at the deliberate ploy to link him [Babanginda] with the spate of wanton bombings that have created palpable fear in the land. This, to him, amounts to sheer blackmail. It exposes the weakness in the system if private persons and former leaders who are enjoying their retirement are being linked to acts of terrorism or bombings."
Babanginda's spokesperson traced the incidents to what he calls "failure in governance rather than passing the buck, or finding very idiotic and flimsy reasons to label some distinguished persons as being responsible for such failures."
Nonetheless, Nigerian President Goodluck Jonathan, who is Christian, urged Nigerians to stay away from panic, revenge or retaliation.
"It is the intention of those behind the blast to get government and Nigerians to enter into panic mode and begin to react. If we do this, they have won. So we have to take all necessary steps to bring them to book after swift but thorough investigations while we also allow for no disruption in our plans for a prosperous new year," a message on President Jonathan's Facebook profile read.
Nigeria
Read latest news and features from Nigeria : business, politics, culture, life & style, entertainment and sports