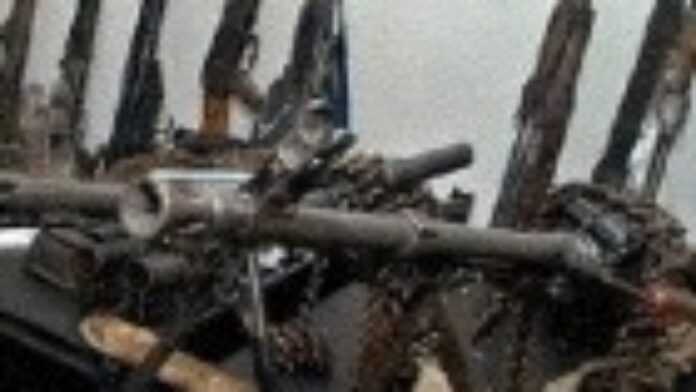 South African police have unearthed a massive stockpile of rifles, rocket launchers and hand grenades from a house occupied by serving soldiers and policemen.
The seizure of an arms cache in Katlehong, east of Johannesburg, on Monday January 10, prompted national Police Commissioner General Bheki Cele to say that the weapons seized were commonly used in assassinations and during robberies of malls and banks.
By Tuesday evening according to media reports, 15 people had been arrested.
"These people have accrued this stash of arms for one thing only, and that is to wage war, and you have done very well to detect them, possibly averting very serious crimes from being committed," Cele was quoted as saying to police officers.
"These guys don't carry broomsticks. The guns are for elimination should anyone come their way as they do their dirty work," he said.
He said more breakthroughs are imminent: "This is only the beginning. We are going to eradicate criminality in this country."
The cache includes five mini limpet mines, four detonators, two rocket launchers, six F1 hand grenades, one CSC rifle grenade, two AK-47 rifles, three Uzi sub-machine guns, one R1 rifle, one .303 rifle and one silencer.
Ammunition included AK-47 rounds, R1 rounds, R5 rounds, 9mm rounds, shotgun rounds and .38 revolver rounds, reports state.
On a lighter note, Cele said the find was "the best Christmas and New Year's present."
Reports say police made the find when investigators acted on intelligence which led them to an out-building of the house.
Police experts have been roped in to help with the investigation to determine the source of the artillery. They have linked the arms cache to a dangerous gang suspected of using explosives to break into ATMs which are coming in South Africa.
The discovery was described as a "huge cache that has not been seen in recent years," but a plea for citizens to surrender unregistered arms was met with resistance.
South africa
Read latest news and features from South africa : business, politics, culture, life & style, entertainment and sports