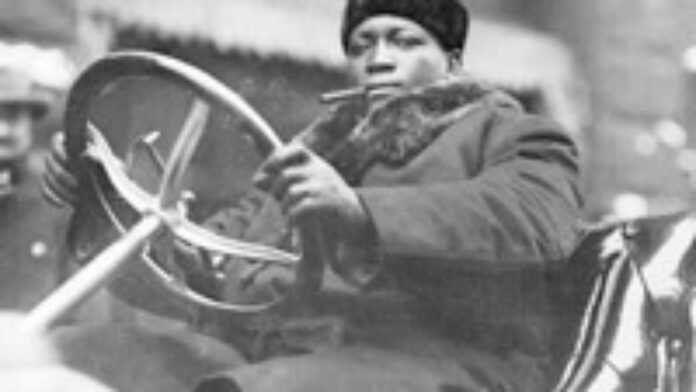 Boxer Jack Johnson instilled pride in the African-American community in 1908 by becoming the first African-American world heavyweight champion at 30 years old. Born John Arthur Johnson in Texas, Jack was the son of former Southern slaves; his father traced their ancestry directly to modern-day Ghana.
Johnson's contemplative boxing style was largely defensive, as he waited patiently for opponents to reveal weaknesses for him to exploit.
Though Johnson regularly faced off against both black and white boxers, world heavyweight champ James Jeffries refused to fight him on racial grounds.
When finally given the chance to spar against reigning champ Tommy Burns in 1908, Johnson became the first Black heavyweight champion of the world.
When undefeated boxer James Jeffries came out of retirement in 1910 to "reclaim the heavyweight title for the white race," his loss sparked race riots in 25 of America's 50 states. (Film footage of the Jeffries-Johnson "Fight of the Century" is preserved in the National Film Registry.)
Johnson married three successive white women, causing considerable controversy in the segregated age of early 20th century America.
As one of the first celebrity athletes of the modern era, Johnson endorsed products, drove racecars and sported stylishly expensive suits.
For seven years, Johnson lived in Montreal, France, South America and Mexico avoiding a jail sentence for transporting a prostitute across state lines (his eventual second wife, Lucille Cameron). Eventually, he served his year-long sentence.
Congress recently passed a resolution for President Obama to officially pardon Jack Johnson for this unjust incarceration.
Johnson died in a fatal car crash in 1946, speeding angrily away from a North Carolina diner that refused to serve him because of his race.
Famed jazz pioneer Miles Davis recorded A Tribute to Jack Johnson in 1970; the legendary boxer is also the subject of many other tributes, including the 2005 documentary, Unforgivable Blackness: The Rise and Fall of Jack Johnson.
United States
Read latest news and features from United States : business, politics, culture, life & style, entertainment and sports